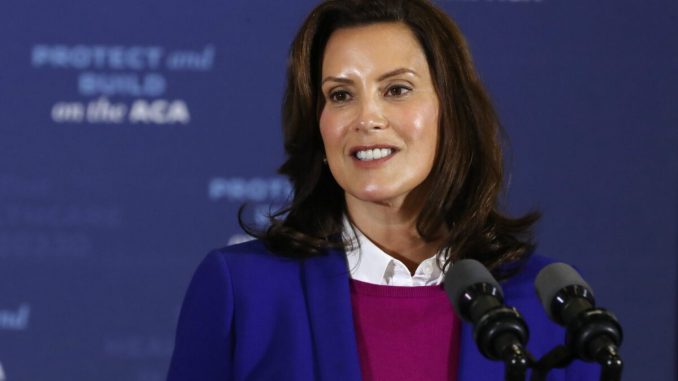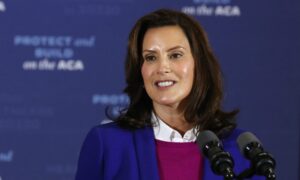 Michigan Gov. Gretchen Whitmer said her state won't carry out another COVID-19-related lockdown amid a spring spike in cases, following Republican-led lawsuits in 2020 that argued she overstepped her constitutional authority.
"I have been sued by my legislature. I have lost in a Republican-controlled Supreme Court, and I don't have all of the exact same tools [that I had 15 months ago]," Whitmer, a Democrat, told NBC's "Meet the Press" on April 18.
She said the lawsuits left her without the authority to unilaterally implement a lockdown amid a new resurgence in cases of the CCP (Chinese Communist Party) virus, which causes COVID-19.
Republicans have said that lockdowns are damaging to the economy and the livelihood of residents, while pointing to states such as Florida and Texas, which have eschewed lockdowns in recent days, as models to follow. COVID-19 cases in both states have appeared to level off in recent days, although officials have said that spring break vacationers in Florida sparked an increase.
"Well, at the end of the day, this is going to come down to whether or not everyone does their part. That's the most important thing," Whitmer said. "We're imploring people to take this seriously, mask up, get tested.
"If you've been around someone who's positive, stay home. And if you do get COVID, use one of these monoclonal antibodies so that we can keep you out of the hospital and help you retain your health."
Last year, Michigan's Supreme Court ruled that Whitmer didn't have the constitutional authority to continue extending a state of emergency that was declared due to the pandemic. Around the same time, Whitmer was sharply criticized by Republicans who said the lockdown orders were too harsh and would harm businesses.
"We conclude that the Governor lacked the authority to declare a 'state of emergency' or a 'state of disaster' under the EMA after April 30, 2020, on the basis of the COVID-19 pandemic. Furthermore, we conclude that the EPGA is in violation of the Constitution of our state because it purports to delegate to the executive branch the legislative powers of state government—including its plenary police powers—and to allow the exercise of such powers indefinitely," wrote Justice Stephen J. Markman for the Supreme Court's majority.
Whitmer's office has come under criticism recently after Michigan Department of Health and Human Services Director Elizabeth Hertel traveled to an Alabama Gulf Coast resort area earlier this month.
"The sheer brazenness of Gov. Whitmer and her staff is truly something else," Michigan GOP spokesman Ted Goodman told Fox News on April 14, adding that "Whitmer's position on the draconian lockdown orders is simple—rules for thee, but not for me."