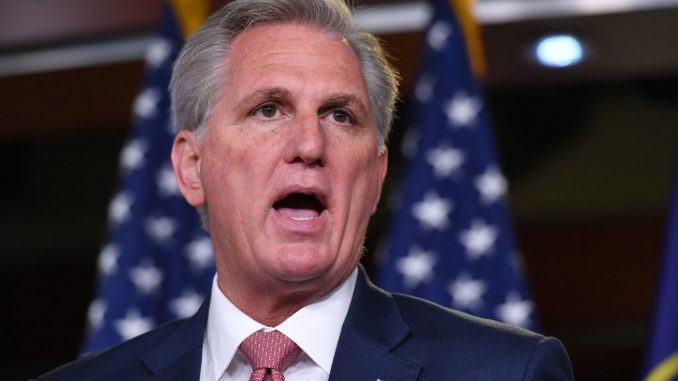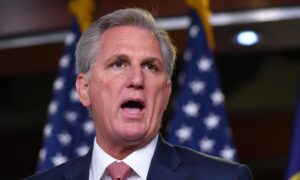 House Minority Leader Kevin McCarthy (R-Calif.) said on Monday that he will introduce a resolution to censure Rep. Maxine Waters (D-Calif.) over comments he says "incited violence."
"This weekend in Minnesota, Maxine Waters broke the law by violating curfew and then incited violence. Speaker Pelosi is ignoring Waters' behavior—that's why I am introducing a resolution to censure Rep. Waters for these dangerous comments," McCarthy said in a statement on Twitter.
McCarthy's move comes a day after he warned that he would "bring action" if House Speaker Nancy Pelosi (D-Calif.) did not condemn Waters' "dangerous" rhetoric. Over the weekend, Waters attended a protest in Brooklyn Center following the death of 20-year-old Daunte Wright where she made the controversial remarks.
She said she was "going to fight with all of the people who stand for justice" and persuaded protesters to "stay on the street," "get more active," and "get more confrontational," if former police officer Derek Chauvin isn't found guilty of murder for George Floyd's death.
"We've got to make sure that they know that we mean business," Waters said.
She also said the former Minneapolis police officer should receive a guilty verdict for murder, eliciting a strong rebuke from the trial judge presiding over Chauvin's case.
"I wish elected officials would stop talking about this case, especially in a manner that is disrespectful to the rule of law and to the judicial branch and our function," the judge said on Monday, referring to Waters.
"If they want to give their opinions, they should do so … in a manner that is consistent with their oath to the Constitution."
Chauvin's lawyers argued that Waters' comments had prejudiced the jury and would form the grounds for a mistrial. But the judge denied that request, while noting that the defense could submit press articles about her comments for an "appeal that may result in this whole trial being overturned."
Waters' office did not immediately respond to The Epoch Times' request for comment.
Waters dismissed the accusations that she had incited violence, telling theGrio that she is a "non-violent" person. She then shifted the blame to Republicans, claiming that the calls for her expulsion are all part of a political tactic by Republicans.
"Republicans will jump on any word, any line and try to make it fit their message and their cause for denouncing us and denying us, basically calling us violent … any time they see an opportunity to seize on a word, so they do it and they send a message to all of the white supremacists, the KKK, the Oath Keepers, the [Proud] Boys and all of that, how this is a time for [Republicans] to raise money on [Democrats] backs," Waters said.
The congresswoman also argued that her comments were related to "confronting the justice system" and "policing that's going on."
Similarly, Pelosi defended Waters on Capitol Hill on Monday, telling Capitol Hill reporters that she did not think her colleague had incited violence. She also added that she doesn't believe Waters should apologize for her comments.
"Maxine talked about confrontation in the manner of the Civil Rights movement. I myself think we should take our lead from the George Floyd family. They've handled this with great dignity and no ambiguity or lack of misinterpretation by the other side," Pelosi said.
Meanwhile, Rep. Marjorie Taylor Greene (R-Ga.) has introduced a resolution to hold Waters "accountable for inciting violent riots and Black Lives Matter terrorism."