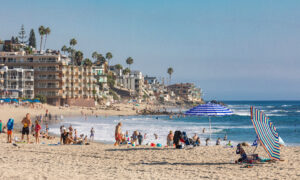 Laguna Beach is considering hiking the penalties for those caught littering and drinking alcohol in public.
Its city council will discuss during an April 20 meeting whether to increase fines for such offenses, so that they're on par with other municipal code violations.
For some violations—such as roller skating at night, not getting your pet vaccinated for rabies, or climbing up Seal Rock and disturbing the seals—penalties are standardized by the city.
For others, the penalties are specified in the code itself and the fines can be reduced. Littering and drinking in public are two such codes.
Current penalties for littering in public are $25 for a first offense, $50 for a second offense, and $100 for each subsequent offence.
Penalties for drinking in public are $30 for a first offense and $60 for a second offense. All subsequent offenses are treated as misdemeanors. (Conversely, drinking any beverage from a glass bottle on a beach is $100.)
The ordinance, submitted by Laguna Beach Police Chief Robert Thompson, would make the penalties for these two offenses consistent with the standard for a municipal code violation.
Standard penalties for a violation of the city's municipal code are $100 for a first offense, $200 for a second offense within the same year, and $500 for subsequent offenses within that year.
If the city council approves the ordinance, it will go through a second reading before final approval.
The ordinance needs a majority vote to pass and, if approved, would go into effect 30 days later.