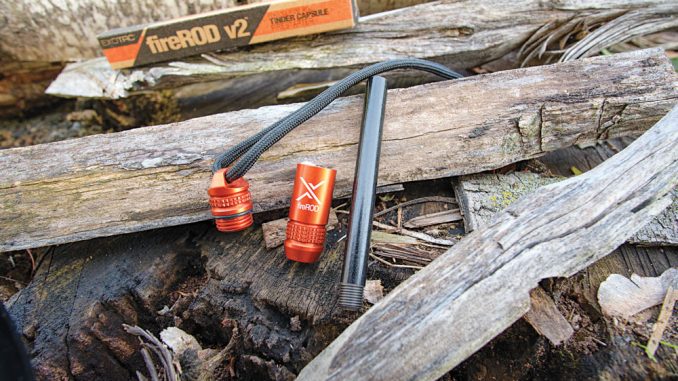 2020 has proven to be a good test of our levels of preparedness. Between the COVID-19 pandemic and the political turmoil of an election year, many of us interested in preparedness have had a chance to examine our lives and put our preparations to the test to find their strengths and weaknesses. Additionally, we have many new people joining the ranks of those striving for self-sufficiency. In this issue, we've included a variety of new products to help you achieve your goals of self-reliance and independence. Whether you're a newcomer or an old-timer in the self-reliance community, we hope you'll find something that will help you achieve your goals.
This could be the last mag carrier you'll ever need. Its unique design allows you to carry and conceal any pistol mag, from a 9mm single-stack to a .45 ACP double-stack, without the need for tools or adjustments on your part. As you insert the magazine, the UMC G2 automatically adjusts to the appropriate size while keeping it securely in place. Available in three colors, it's perfect for everyday carry and days at the range when you're practicing with multiple handguns. And, you can wear it IWB or OWB with any 1.5-inch belt.
MSRP: $24.99
The 5.11 Tactical Rapid HL 1AA Headlamp produces up to 330 lumens on "high" with a runtime of over an hour, or it can be switched to "search" or "flood" mode for a six-hour runtime. Independently controlled LED spot and COB (chip on board) flood lights with rotation capability let you adjust and direct the headlamp as conditions demand, and a sturdy aluminum body will keep it working, no matter how much you bang it around. Need to switch to a more direct manipulation? The headlamp is removable so you can use it as a right-angle light and clip it onto a backpack or plate carrier.
MSRP: $54.99
The 5.11 Tactical Light Marker is an environmentally friendly alternative to mini chemical lights. Its nylon body is laser cut to be compatible with MOLLE webbing and 5.11's HEXGRID mounting panels. The hole on each end of the unit is paracord compatible. The photoluminescent center bar uses 5.11 Firefly technology to store and emit light without the use of batteries or one-time-use chemical reactions.
MSRP: $13.99
The RUSH100 is the largest of all of the RUSH packs sold by 5.11 Tactical, coming in with an internal volume of 60 liters. It utilizes a custom, flat aluminum bar frame with stability fiberglass rods that are part of the RUSH line's signature Center Line design. The RUSH100 has a multitude of intelligent storage compartments and can be expanded using 5.11's impressive array of add-on pouches.  The pack uses an adjustable and removable waist belt system to comfortably distribute weight.
MSRP: $264.99
The Benchmade 202 Leuku is a no-nonsense fixed-blade knife built for strenuous bushcrafting applications while maximizing in-hand comfort. Lock down your essentials—food, water, knife and everything in between. It features a CPM-3V tool steel drop-point blade with a new heat-treat process, resulting in an HRC of 60–62. The 5.19-inch blade combines with the textured Santoprene handle to create a knife that's 9.69 inches long. The knife comes with a leather sheath, which also integrates a ferro rod loop.
MSRP: $165
The Modus Jacket is a lightweight, hooded jacket that's designed for active use in warmer weather. The durable, 4-way-stretch, double-faced nylon polyester shell protects you from the wind and rain while remaining breathable for moisture transport. The inner face of the fabric is made with bamboo charcoal yarn, which is naturally antibacterial, antifungal, moisture-wicking and insulating. Wear the Modus Jacket if you need lightweight durability for active use in warmer climates. Multiple colors and long sizes are available.
MSRP: $140
 Beyond Clothing Todra Short Sleeve Crew Shirt
The K1 Todra Short Sleeve Crew takes the everyday wearability of a classic T-shirt to the next level. Blended knit jersey fabric with a sanded finish ensures a soft, velvety feel for all-day comfort. Drirelease technology manages sweat buildup from exercise, excessive heat and more, and the fitted, athletic construction makes it an ideal choice for a hike, workout and casual wear.
MSRP: $35
New for 2020 is the Duraflame Outdoor Firelog. Made in the U.S.A., the Outdoor Fire Log is 100 percent bio based. A single, three-log case will create a fire that lasts about three hours. The logs have been engineered to have fewer emissions than a traditional wood fire and to produce 48 percent more heat energy per pound than traditional wood. These logs are designed to burn brighter and are 100 percent food safe. Each log is individually packaged with a wrapper that's intended to be used to ignite the log. When wood isn't available or wood-collection is prohibited, the Outdoor Firelog will provide a hot, easy-to-start-and-maintain fire wherever you might need it.
MSRP: $17.98 (3-log case);
$22.98 (6-log case)
The Work Tuff Gear Nomad is a collaborative effort with knife designer Zeke Menacho. With an overall length of 15.7 inches, this knife is designed to be able to chop like a hatchet, stab like a dagger and slice like a kitchen knife, making it a true jack-of-all-trades. The multi-position handle creates extra leverage for heavy chopping, provides an integral guard for stabbing and a generous choil for getting the hand close to the edge for detailed carving. The handles are made from 3D sculpted G10, and the blade steel is Japanese SK85 high-carbon tool steel. The 10-inch blade is carried in a custom molded Kydex sheath.
MSRP: $229
 Rokka Knives Korpisoturi Puukko
The Korpisoturi ("wilderness" warrior) Puukko is the culmination of five years of development and is the first knife being introduced by new Finnish knife manufacturer Rokka Knives. The blade is made from 5mm-thick Bohler 80CrV2 high-carbon tool steel. Despite its thickness, the puukko's rhombic grind and dual distal taper mean that this knife won't weigh you down. Each knife is ground with a 19.5-degree edge angle, which translates to extreme performance while the differential heat treat means it'll have both superior edge retention and toughness. The handle is made from molded TPE Dryflex that's designed for superior grip and comfort in all environments. The sheath is belt- and MOLLE-compatible and provides superior retention.
MSRP: $145
Ruger has introduced a new addition to its popular American Pistol lineup. This compact .45 ACP pistol features a 3.75-inch barrel and a 7+1 capacity. Coming in at only 29 ounces, this pistol was made to provide the concealed carrier with some serious firepower. The glass-filled polymer frame and stainless steel slide feature a new, gray Cerakote finish. The frame offers interchangeable, wraparound grip modules, and the slide features steel Novak LoMount 3-dot sights. A manual safety is optional.
MSRP: $579
Five years ago, Dark Energy introduced the Poseidon backup battery. Building on the massive success of the original Poseidon, the Poseidon Pro combines all the extreme ruggedness of the original with added power and versatility. The Poseidon Pro features a type 3 USB and USB-C charging port. The 10,200 mAh power cell not only provides an average cell phone with an extra 36 hours of power, it also delivers that power up to 2.5 times faster than the original Poseidon. If you need a battery bank capable of enduring the most rugged, demanding environments on Earth, the Poseidon Pro is the easy choice.
MSRP: $109.99
Dark Energy made the Poseidon Pro to be the toughest, most reliable backup battery on the planet. To deliver that power, this company has created the Tridyn—the most rugged, capable and versatile charging cable available. The Tridyn features a three-pronged head with Lightning, Micro USB and USB-C connectors. Each cable is made with Armor-Flex technology, which includes multiple layers of reinforcement: ballistic fiber, Mylar shielding, mesh reinforcement and a nylon fiber coating. The area at which the cable meets the head has been strengthened to prevent fraying, and each head is encased in metal armor.
MSRP: $27.99
Rockpals is a trusted source for solar power generators, solar cells and backup batteries. Its new 330W Power Station provides a reliable source of power for use in emergency situations and in areas where electricity is unavailable. The Power Station features a wireless charging station on top of the unit. It also provides (3) USB-3 ports and a single USB-C port. Other features include (1) 110V AC outlet, (2) 12V DC outlets and (1) 12V DC cigarette lighter outlet. The unit can be charged via a 110V AC wall outlet, a 12V car charger or a 100W (minimum) solar panel. Pure Sine Wave technology protects sensitive devices, and the unit is backed by a two-year warranty.
MSRP: $349.90
The original Skrama 240 has made a name for itself with outdoorsmen as a solid, no-frills utility tool for the woods. The Skrama 200 has all the great design elements of the original, along with a shorter, 7-inch blade and a shorter, single-position handle. The Skrama uses 80CrV2 Bohler tool steel. It's extremely tough, durable and easy to maintain. Just like the original, the new Skrama features a dual grind optimized for both chopping and carving. The rubber grip completely encloses the tang and insulates the hand in cold weather. This knife will chop, split wood, carve, clean game and prep food. Sheath options include a basic plastic blade cover or a leather belt sheath.
MSRP: Starting at $64.99
Exotac is an industry leader in the development and manufacturing of high-quality gear for the outdoorsman. Its line of fire-starting gear is second to none and includes all the innovations Exotac is known for. The brand-new fireROD V2 features a redesigned handle that's larger than the V1. The handle provides a better grip and offers a larger, waterproof tinder storage compartment that's designed to hold two quickLIGHT tinder tabs. The fireROD V2 is 4.7 inches long, weighs 1.2 ounces and uses the same replaceable 5/16-inch ferro rods as the V1. The lanyard is made using premium 550 FireCord.
MSRP: $29.95
Editor's note: A version of this article first appeared in the September, 2020 print issue of American Survival Guide.