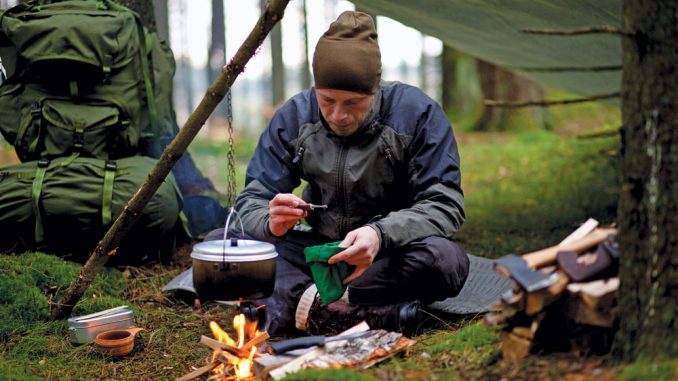 While under survival conditions, things can get pretty rough. From sleeping on the hard ground to going days or weeks without a shower, to trapping your own dinner each day, a man-made or natural disaster can take "roughing it" to the next level—and beyond.
However, in the midst of the madness, you can keep a bit of civility by using a variety of utensils when it's time to eat. A sturdy, metal fork in hand gives you a sense of normalcy, even if the world around you is far from normal. The right spoon performs multiple tasks and improves your cooking efficiency, and a good knife is critical to virtually every step in meal preparation and consumption.
Although they might not take center stage when prepping or stocking your bug-out location, rest assured that when you don't have utensils on hand, they'll be sorely missed.
Overview
This utensil offers numerous functions, all within its intelligently constructed, single piece of durable steel. Enjoy the use of a fork, spoon, bottle opener, flathead screwdriver and three hex wrenches wherever you travel. This compact tool fits easily onto your keyring; or you can hang it on your mess kit or your bug-out bag. Simple, effective and there when you need it- that's the EAT'N TOOL!
Specifications
Blade steel: 3Cr13
Overall length: 4.0 inches
Carabiner included
Weight: 1.5 ounces
Available in black, orange, pink or gray
MSRP
$7.99
URL 
Overview
With a pocketknife-like design, this trio will aid in breakfast, lunch and dinner with a quick flick of your wrist. Use the full-sized fork, spoon and knife to make outdoor "eats" a pleasure, even while you're under not-so-nice conditions. The all-stainless steel construction will hold up for years of outdoor use at the campsite or when far from home. The included nylon sheath keeps the kit attached to your belt and always handy.
Specifications

Compact, slim design
Knife steel: 3Cr13 stainless steel
All utensils easily slide apart and back together
Includes nylon carrying case
Weight: 5.6 ounces
MSRP
$25.38
URL
KaBar.com
Overview
This multi-tool offers a corkscrew, package opener (useful for opening cans or jars), bottle opener for cracking open a cold one and a pry bar for handling "troublesome" containers. The main blade can slice through meat during dinner, and everything folds down into one compact unit when done. Choose from gold, orange or onyx colors.
Specifications
Solid, durable steel construction
Textured handle for a firm grip
One-handed opening feature
Closed length: 3.6 inches
Weight: 3.1 ounces
MSRP
$39
URL 
GerberGear.com
Overview
Great for hiking trips, weekend campouts or when traveling out of town, these stainless steel utensils offer convenience when you're far from your own kitchen. All three items—a fork, spoon and serrated knife—attach together easily by the included interlocking clip. Cleanup is easy with soap and hot water. An integrated bottle opener within the knife's handle offers a fourth convenient utensil.
Specifications
All-stainless steel construction
Interlocking clip keeps all pieces together
Includes fork, spoon and serrated knife
Length: 6.34 inches
Total weight: 3.0 ounces
MSRP
$14.99
Overview
This one-piece utensil features three much-needed items (a spoon, fork and serrated knife), all of which are ideally sized for use during a survival situation, while out camping or packed within your emergency food kit. The included carabiner makes it easy to secure this tool to your bag or mess kit, while its bright-orange color makes it easy to locate in a pack or at camp. This tool is a minimalistic design that offers multiple functions.
Specifications
Easy cleanup
Constructed of one-piece polycarbonate
Lightweight and heat-resistant
Weight: 0.3 ounce
MSRP
$7.99
Overview
One tool, five useful utensils. When it comes to prepping and survival, space is at a premium, and this compact tool takes up very little. The set offers a complete array of utensils for mealtimes. From cutting meat to sipping soups, opening up canned goods to uncorking a wine bottle when it's time to unwind and relax, your needed tools will always be nearby.
Specifications
Utensils detach for easy use
Pocket-sized set fits nearly anywhere
Durable metal construction
Includes olive drab pouch
MSRP
$16.99
URL
Rothco.com
Overview
Overview
One of the most overlooked necessities when stocking a closet of canned goods is a can opener. Without it, you'll be fighting with the jagged metal as you try to tear through it with your best knife. This can cause damage to your valuable knife, and maybe to some body parts too. Avoid the hassle and stock up on a pocketful of these essentials. Tape a few directly to the canned goods, keep some in all your gear bags and packs, and always attach one to your key chain.
Specifications
Lightweight and low-profile
Hole for key ring or lanyard
Only 2 inches long
Durable stainless steel construction
Ideal for camping, hunting, backpacking and emergency preparedness
MSRP
$0.99
URL
Rothco.com
Overview
When it's time to pull out the MREs, dehydrated snacks or freeze-dried foods, these full-sized utensils make those "survival" meals a great deal better. Utilizing a tool for every type of food, you'll enjoy the convenience of a spoon, fork, knife, spatula and bottle opener, no matter where you find yourself after a crisis hits. In addition, this innovative set locks together to convert to a functional pair of tongs.
Specifications
Utensils nest for slim storage and easy carrying
High-temperature nylon with silicone overmold
Combined components weigh 2.3 ounces
Length 7.75 inches
MSRP
$29
URL
GerberGear.com
Overview
The Tri-Tip cleaver is a must-have on any outdoor adventure. It can handle even the toughest meats, roots and vegetables. Its dual-purpose blade enables you to hack through materials with ease, while its beveled leading edge shaves wood for fire-starting and mealtime food items with utmost precision. The machined-aluminum handle provides a sturdy and comfortable grip for extended use.
Specifications
Use for shopping, scraping and cutting
Blade steel: 7Cr17MoV
Length: 8.5 inches
Weight: 11.7 ounces
Includes polymer sheath
MSRP
$36
Overview
Feeding a family when out camping takes some dependable and versatile utensils. This trio fits the bill. The included slotted spoon, spatula and solid spoon let you flip fish, stir soups and stews, and strain pasta and other boiling foods from the pot. Pre-punched handle holes make hanging them a cinch while cooking or drying after use. This three-pack is built to last, season after rugged season.
Specifications
Durable, one-piece construction
Created from DuPont 101 nylon
Dishwasher safe
Heat-resistant to 410 degrees (F)
Weight: Fewer than 6 ounces
MSRP
$5.99
URL
Coghlans.com
Overview
Okay, here's the rundown: a spork, butter knife, can opener, bottle opener, spud peeler, fire-starter, cord cutter, pry bar, box cutter and a flathead screwdriver—that's a lot of tools, all in one piece! The Muncher is the ideal companion when traveling, camping, packing for emergency preparation or minimalist survival use. An included Hypalon pouch with a carabiner attachment secures your tool and also houses the fire-starter.
Specifications
Made from aerospace titanium
10 tools
Includes pouch with ferrocerium fire-starting flint
Thickness: 0.06 inch
Weight: 0.70 ounce
MSRP
$49.99
Overview
Flip it, lock it into place, and chow down. That's the innovative design of the ChowLite. This one-piece utensil offers a fork, serrated-edge spoon, bottle opener, can opener and even a flathead screwdriver. No longer do you need to fiddle with multiple utensils that can get lost when you need them the most. Constructed of easy-to-clean stainless steel, the ChowLite has everything you need for mealtimes in one durable tool.
Specifications
420J2 stainless steel
Utensils lock firmly into place when opened
Full-sized utensils
Open length: 7.75 inches
Closed length: 4.5 inches
Weight: 1.60 ounces
MSRP
$19.95
URL
OutdoorEdge.com
Overview
With a look similar to surgical tools, the ChowPal features three interlocking utensils that separate when dinner is served. Enjoy the full-sized cutlery that includes a fork, spoon and knife, with the added bonus of a bottle opener, can opener, graduated wrench and flathead screwdriver. The unit slides back together with ease and slips into the included nylon pouch when not in use.
Specifications
420J2 stainless steel
Knife offers a frame lock for safety
Length: 6.5 inches
Weight: 2.4 ounces
MSRP
$28.50
Overview
These two utensils are much more than first meets the eye. The oversized spork and serrated spatula join together to form a pair of tongs that are perfect for over-the-fire cooking. These utensils operate with a flexibility that provides just the right amount of force but without losing support. The tool is constructed entirely of titanium, so you'll enjoy its light weight and extreme durability. An optional Hypalon pouch is available to keep these utensils clean and ready to use.
Specifications
Incorporates 5 functions
Polished, sand-blasted finish
Length: 10 inches
Weight: 1.80 ounces
MSRP
$54.99
Overview
Looks are definitely deceiving with the Shard. This multi-function utensil offers valuable functions, so it's ideal for both everyday tasks and unpredictable situations. It features a pry bar, two flathead drivers, wire stripper, cross driver, bottle opener and lanyard hole—all useful for the campsite. This unit fits easily onto a key ring or lanyard. This little tool's corrosion-resistant coating means it'll tackle nature's worst. All in all, it's a small, handy utensil with huge benefits!
Specifications
One-piece construction with 7 functions
Black titanium-nitride coating resists corrosion
Extremely lightweight
Lanyard hole for key ring or paracord attachment
Length: 2.75 inches
MSRP
$7
Overview
This compact kit offers everything you need to eat a meal, clean up fast, pack it away and continue on your way. Incorporating a knife, fork and spoon, as well as a small cup and enclosed "plate," you'll have a touch of civilization, even if you're deep in nature's backyard. All items fit into the covered base for easy storage and carry.
Specifications
Recreational or survival use
Hole-punched items for air drying or storage
Compact and lightweight
Hand-washable and easy to clean
MSRP
$23.49
URL
MountainWarehouse.com/UK
Overview
Without a doubt, a fork is a valuable asset for any meal outdoors, but chopsticks are a very viable substitute. With a little practice on your part, this set of durable chopsticks can complement your traditional utensils and perhaps even become your favorite. The ridged handles allow for easy gripping, while the narrowing tips grip food firmly and securely. The pair cleans up in a breeze after your meal.
Specifications
Length: 9.5 inches
Made with food-/water-safe Grilamid
Dishwasher safe
Segmentation handle provides a firm grip
Weight: 1.3 ounces
MSRP
$8.57
URL
KaBar.com