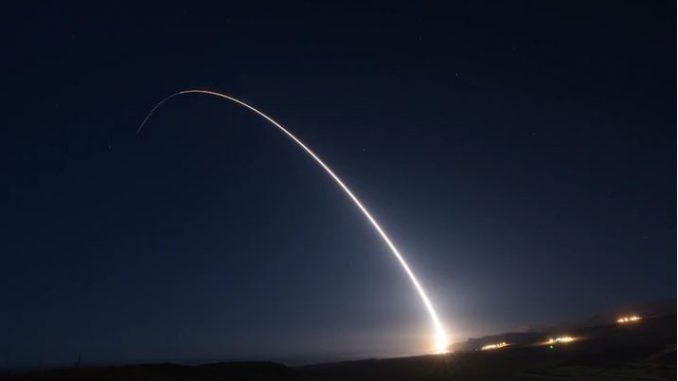 OAN Newsroom
UPDATED 11:15 AM PT – Thursday, October 29, 2020
The U.S. Air Force has test-launched an unarmed intercontinental ballistic missile.
According to reports, the 'Minute-Man Three' missile and re-entry vehicle was launched shortly after midnight on Thursday from Vandenberg Air Force Base in California.
MINUTEMAN III TEST LAUNCH https://t.co/q76NRzr3oe

— Howard Altman (@haltman) October 29, 2020
The missile traveled around 4,200 miles to the Marshall Islands. This verified the accuracy and reliability of the system.
For 50+ years, #MinutemanIII #ICBM fleet has underpinned our strategic force & played critical role in ensuring protection of our allies as a leg of the #nucleartriad. Today, #Strikers showcased that readiness during an operational test launch, proving we are #AlwaysReady. #GT236 pic.twitter.com/fy3fhHT1w0

— AFGSC (@AFGlobalStrike) October 29, 2020
Officials have said the test demonstrates that the U.S. nuclear deterrent is a 'safe… secure and effective means' to deter modern threats. They added test launches are planned months in advance and are not a response to world events or regional tensions.