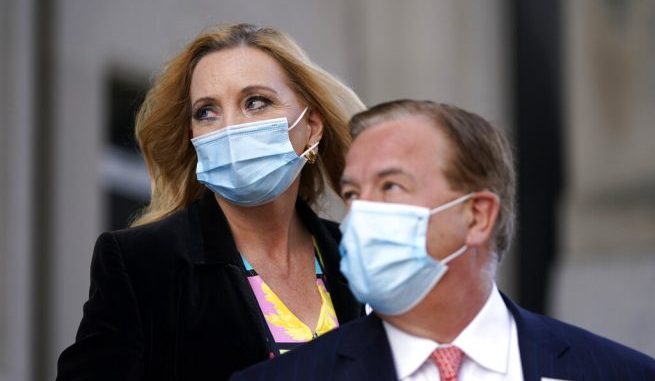 OAN Newsroom
UPDATED 6:53 AM PT – Friday, December 11, 2020
A judge has disqualified prosecuting attorney Kimberly Gardner from the case involving Mark and Patricia McCloskey. In a statement Thursday, St. Louis Circuit Judge Thomas Clark II asserted that Gardner "initiated the prosecution for political purposes."
The judge ruled Gardner illegally used the case to solicit campaign funds at the expense of the McClosky's and is, therefore, restricted from further involvement in the proceedings. This came after the St. Louis couple sought the prosecutor's removal from the case.
"This case is just an opportunity for the government, the leftist Democrat government of the city of St. Louis, to persecute us for doing no more than exercising our Second Amendment rights," stated Mark McCloskey. "If that doesn't frighten you, that the government is willing to do that just to take a political advantage of this case…to intimidate people…that might think to defend themselves against the mob."
The Circuit Court has disqualified Kim Gardner and the entire St. Louis Circuit Attorney's office from the case against me. We will ask the Judge in Patty's case to do the same!

— Mark T. McCloskey (@Mark__McCloskey) December 10, 2020
According to the judge, citizens for Kim Gardner sent two emails to donors, which opened with criticism of the defendants and followed with campaign donation requests. They were sent within a five-day window of her decision to prosecute the McCloskey's.
Additionally, the judge ruled that Gardner sought to "energize her supporters and elevate contribution amounts" at the McCloskey's expense. Gardner admitted to involvement with the emails, which often referred to the couple as "the two who pointed guns at peaceful citizens during the Black Lives Matter protests."
After reviewing the evidence, the judge deemed this behavior an illegal conflict of interest given it appears that Gardner may have attempted to prosecute the McCloskey's for personal gain.
The couple have been charged for using their guns to protect their home during a Black Lives Matter protest. However, they maintain they did not hurt anyone and merely wanted to protect their home.
Gardner launched her prosecution of the McCloskey's amid her successful re-election campaign as St. Louis circuit attorney and appeared to receive high amounts of attention from media as well as donors due to her involvement in the case.
Meanwhile, Mark McCloskey has criticized Democrats for initiating highly public trials against people just trying to defend themselves.
"It seems that the Democrats no longer view the government's job as protecting honest citizens from criminals, but rather protecting criminals from honest citizens," he stated. "Not a single person in the out of control mob you saw at our house was charged with a crime, but you know who was? We were."
It's unclear who will take over the case after Gardner's disqualification. If the couple is convicted, they could face up to four-years behind bars, lose their licenses to practice law and their livelihood.