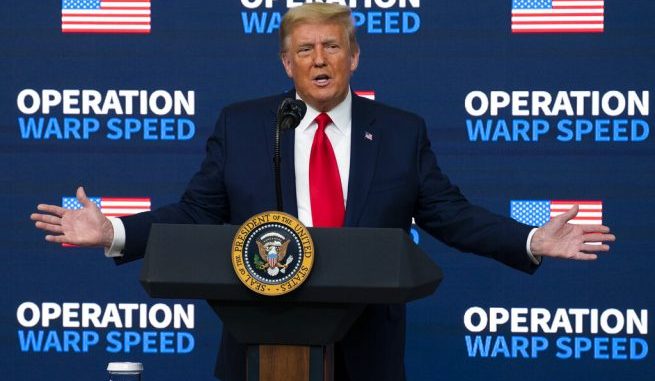 OAN Newsroom
UPDATED 9:16 AM PT – Wednesday, December 9, 2020
President Trump recently touted his administration's success in handling the rollout of a coronavirus vaccine. He made those remarks while speaking at the Operation Warp Speed summit Tuesday.
The Commander-in-Chief said under his leadership the expected approval of a coronavirus vaccine has come far earlier than anybody thought was possible.
"Very few people thought that this was possible," he stated. "It has been incredible and it will end the pandemic."
Before Operation Warp Speed, the typical timeline for vaccine development and approval lasted years. pic.twitter.com/fvVehwRWXn

— The White House (@WhiteHouse) December 8, 2020
President Trump noted enough doses of Pfizer's vaccine could be made available to 50 million Americans in the coming months. He also said that eventually every American who wants a vaccine will be able to receive one.
The President signed an executive order to prioritize making the vaccines available to Americans first before the U.S. aides foreign countries in their vaccination efforts. He said, if necessary, he may invoke the Defense Authorization Act to ensure it is enacted smoothly.
"If authorized, tens of millions of vaccine doses will be available this month . . . and hundreds of millions more will quickly follow. Every American who wants the vaccine will be able to get the vaccine." pic.twitter.com/Ofo2Opbbir

— The White House (@WhiteHouse) December 8, 2020
However, President Trump clarified that the U.S. is still working with other countries to help get vaccines in the hands of their citizens.
"We're working very closely with other nations also to get the vaccines out to other nations and that's very important," he stated. "We have great companies and we're working with the world."
An FDA panel is scheduled to meet with Pfizer Thursday for a final review of its vaccine and is set to hold a similar meeting with Moderna later this month.