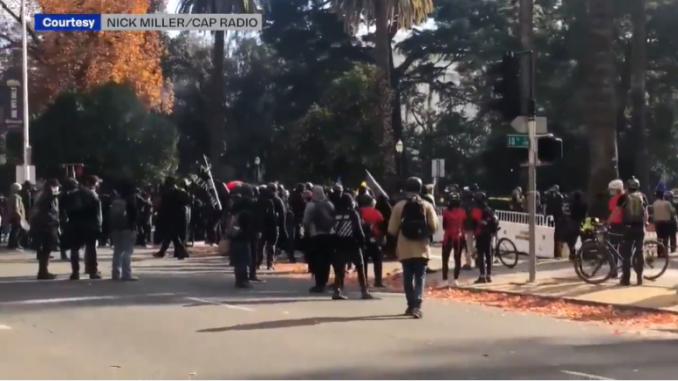 OAN Newsroom
UPDATED 1:00 PM PT – Sunday, December 5, 2020
A pro-Trump rally in California left multiple supporters with vandalized vehicles.
On Saturday, supporters of President Trump rallied to show their support in Sacramento. According to reports, counter-protesters slashed the Trump supporters' tires and also shattered their windows.
Tensions were high as supporters of US President Donald #Trump and his opponents rallied outside #California State Capitol in #Sacramento on Saturday.#USA pic.twitter.com/je4KkfVALQ

— Ruptly (@Ruptly) December 6, 2020
Many upset victims spoke out and showcased their destroyed vehicles. They also emphasized that violence is never the answer.
Several cars were vandalized this afternoon near the State Capitol as Trump supporters and counter protestors clashed. Those impacted by the vandalism are speaking tonight on @FOX40 at 10 pm. pic.twitter.com/gGrhXAbxzn

— Gurajpal Sangha (@GurajpalSangha) December 6, 2020
Police: Protests at Capitol leave behind vandalized cars https://t.co/6fI2LY7Wa9

— FOX40 News (@FOX40) December 6, 2020
"People disagree with the things that I say, and I disagree with the things they say," Lisa Carlisle, a supporter of President Trump, stated. "But it doesn't mean damaging property, I mean it's ridiculous."
Carlisle's truck taillights were knocked out along with her tires. She claimed at least 10 cars were damaged.
The Sacramento police said multiple police reports were filed for those who had their property damaged.