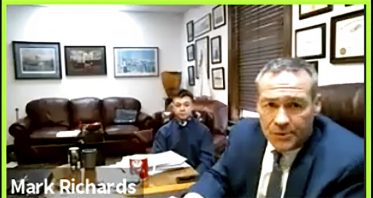 OAN Newsroom
UPDATED 1:10 PM PT – Sunday, December 5, 2020
An attorney for Kyle Rittenhouse withdrew from the teen's legal defense.
Prosecutors raised questions about John Pierce's handling of millions of dollars that were donated in support of Rittenhouse. According to reports, Pierce was facing serious financial problems before taking on the teen's case.
On Thursday, in response to calls to step down, the high-profile Los Angeles based attorney announced that he would be leaving the rest of the legal defense to Mark Richards. Instead, Pierce said he'll be handling all civil matters for Rittenhouse, which includes future defamation claims.
FREE AT LAST!!!

From L to R:

Attorney John Pierce @CaliKidJMP

THE KYLE RITTENHOUSE

Actor Ricky Schroder @rickyschroder13

Thank you, All Donors.
Thank you, All Patriots.
Thank God Almighty.#FightBack pic.twitter.com/37Ly66itT8

— Lin Wood (@LLinWood) November 21, 2020
"Kyle has a constitutional right to have his lawyers be able to defend him in the court of public opinion, especially in a case like this in which he has essentially been vilified by much of the world," Pierce said. "I think we were very successful in the first few weeks, in sort of flipping the narrative, ensuring that now most of the world now understands he is completely innocent."
Kenosha prosecutors have also raised ethical concerns about the donation fund. They accused it of being a "slush fund" and argue the money should be placed in a trust fund to protect its integrity.
The post Kyle Rittenhouse's defense attorney steps down first appeared on One America News Network.