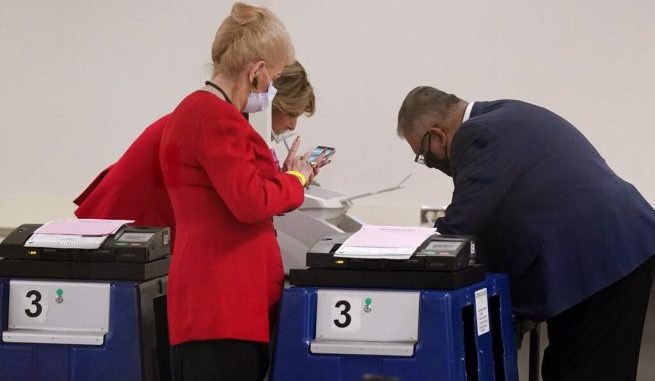 OAN Newsroom
UPDATED 6:57 AM PT – Wednesday, December 2, 2020
The GOP vice chairwoman of Maricopa County, Arizona said she saw ballots changed from a vote for President Trump to a vote for Joe Biden on election night.
Linda Brickman testified before Arizona state legislators on Monday, stating that she witnessed votes being entered into the Dominion system automatically changed to reflect a vote for Biden. She said she was threatened and barred from the counting room after telling her supervisor what she saw.
Despite multiple witnesses coming forward with similar stories, counters were reportedly never told whether any action had been taken to correct the miscount.
.@MaricopaGOP Chairwoman Linda Brickman's testimony is very much aligned with the Texas report in the final concerns of glitches

The platform Texas tested versus the Arizona Dominion platform is a difference in version

The foundational code is the same#SecureTheVote https://t.co/nxkmK2WYpo pic.twitter.com/mddxcxGn0T

— Merissa Hamilton (@merissahamilton) December 1, 2020
Maricopa County is among the largest in the nation with more than 2 million votes in the 2020 election.
"I read her a Trump Republican ballot and as soon as she entered it into the system, the ballot defaulted on the screen to a Biden Democratic ballot," explained the GOP vice chairwoman.
Brickman said her purpose of appearing at the hearing was to speak the truth and protect the integrity of the election.