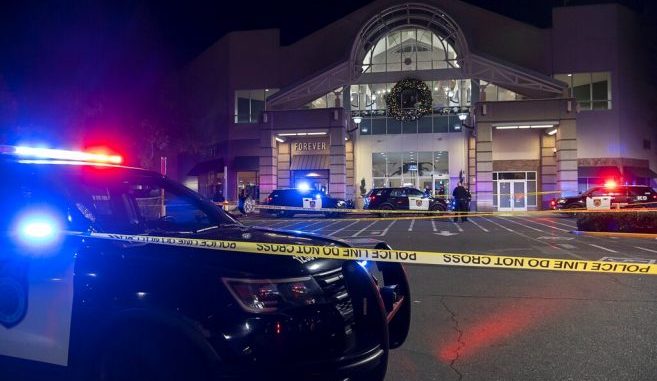 OAN Newsroom
UPDATED 12:59 PM PT – Saturday, November 28, 2020
California authorities are investigating a fatal shooting that took place at a Sacramento Mall during Black Friday.
On Friday, police responded to the attack at Arden Fair Mall. Officers said they believe this to be a single targeted incident and not the result of an active shooter.
Nevertheless, bystanders said the incident was terrifying.
"I actually didn't know what was going on," Black Friday shopper Esther Diaz said. "There was a bunch of people running from behind me so once I saw everybody running that was the need for me to run. People [were] running with their children so that's what really stressed me out."
Sacramento Police Spokesman Karl Chan assured residents that officers are prepared for targeted instances.
"This is a place that we train regularly with outside agencies and our specialty units," Officer Chan stated. "We are very aware of the ins and outs of this mall and we do have those plans in place for if there was ever an active shooter."
SPD officers are on scene of a shooting that occurred at Arden Fair Mall. Two shooting victims have been located and the suspect has fled the area. There is no active threat at this time. Police will remain in the area as the investigation continues.

— Sacramento Police (@SacPolice) November 28, 2020
Police are now looking for a suspect between the ages of 18 and 25. Due to surveillance footage caught at the scene, officers know the shooter was wearing a dark-colored hoodie and possibly driving a red Toyota Camry.
A community activist expressed his condolences for the victims and their families. He called the attack "cowardly" as violence continues to rise in many cities.
"This was people that know each other, and um for whatever reason it had to end up being violent," activist Berry Accius stated. "And it had to be tragic."
We are awaiting more details on tonight's incident from @SacPolice. We are deeply concerned by the increase in gun violence in Sacramento and other cities during the pandemic, and have supported increasing our efforts to reach young people at risk. A gun is never the answer.

— @mayor_Steinberg (@Mayor_Steinberg) November 28, 2020
No further details on the crime have been released. Officers are asking anyone with information to contact the Sacramento Police as the investigation continues.