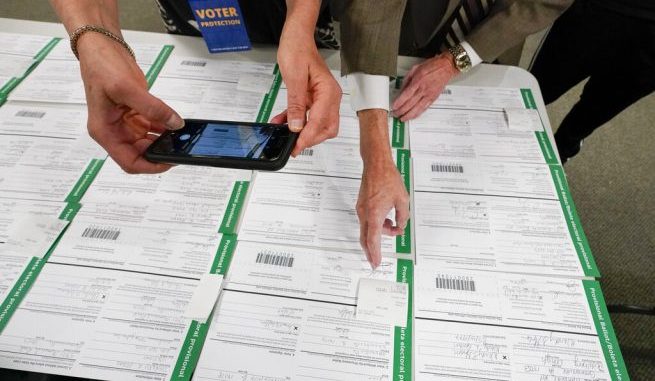 OAN Newsroom
UPDATED 7:07 AM PT – Tuesday, November 24, 2020
New evidence of voter fraud is being revealed in the state Michigan as the Trump campaign continues to pursue legal case to ensure a fair and free election.
In a sworn affidavit from Wayne County, one Michigan election worker said they were told to falsify thousands of absentee ballots for Democrat nominee Joe Biden, in turn, stealing the vote from Republicans.
According to journalist John Solomon, the election worker's affidavit proves evidence of voter fraud in the presidential election
"She is confident that thousands of ballots were back-dated, but that's not the only misconduct she said she saw," he stated. "Going all the way back to September when she was first assigned to the election project, she says she saw election ballots going and having their dates changed…in other words they were committing fraud."
Wayne County, MI
"I was specifically instructed by my supervisor not to ask for a driver's license or any photo I.D. when a person
was trying to vote." pic.twitter.com/u1mkeesIsI

— Miss Michigan (@correctthemedia) November 23, 2020
The affidavit further states election workers in the city of Detroit coached voters and urged others to vote for Biden as well as the Democrat Party. The election worker also said she was instructed to not validate ballots and was told to ignore any deficiencies in Democrat ballots.
Solomon expects the legal testimony will help support the Trump campaign's fight against fraud in the presidential election.
"She has signed this affidavit, it's been submitted in a court case," he stated. "And when you a hear a single city worker say thousands of ballots she witnessed, she partaking in, she knows were fraudulent."
Meanwhile, the Trump campaign is dismissing state certifications of the election results. In a statement shared with the President's supporters, his campaign said certification by state officials is simply a procedural step.
President Trump then tweeted on Monday night that his campaign is moving full speed ahead, warning this year's vote will go down as "the most corrupt election in American political history."
What does GSA being allowed to preliminarily work with the Dems have to do with continuing to pursue our various cases on what will go down as the most corrupt election in American political history? We are moving full speed ahead. Will never concede to fake ballots & "Dominion".

— Donald J. Trump (@realDonaldTrump) November 24, 2020