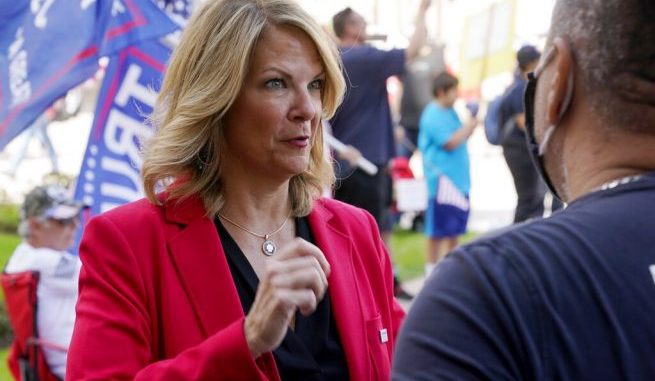 OAN Newsroom
UPDATED 12:38 PM PT – Tuesday, November 17, 2020
The chairwoman of the Republican Party of Arizona, Dr. Kelli Ward, shared an update on election results in her state and is encouraging supporters of President Trump to stay on course. She noted the fight for the presidency is far from over.
"Arizona, I personally and my team are working with the Trump campaign hand-in-hand to ensure that elections in Arizona have integrity," said Dr. Ward.
In a statement Monday, the chairwoman spoke about the GOP's latest fight to counter election fraud. She said there are plenty of questions that still need to be answered.
"We're going into the canvassing phase of this election," explained Dr. Ward. "That means we're assuring that the votes cast are cast as the voter intended and counted appropriately, questions that have to be answered."
Towards the end of her remarks, she told viewers to not lose heart and said Republicans will make sure elections in the Grand Canyon State have integrity.
Her assurances came after Arizona Republicans filed a lawsuit last week to challenge Maricopa County's election results. The suit argues the county must enforce a hand count by precinct, not voting center, as outlined in the state law.
Multiple lawmakers, including Rep. Andy Biggs (R), are leading the push for the Maricopa County Board of Supervisors to review all ballots cast in the county.
BREAKING: This afternoon, the @AZGOP filed suit to enforce a hand count by precinct, not voting center, as required by law.

"Arizona voters deserve complete assurance that the law will be followed and that only legal votes will be counted." — Chairwoman @kelliwardaz pic.twitter.com/xzcqUT8jTc

— Arizona Republican Party (@AZGOP) November 13, 2020
Biggs said issues have been raised about the integrity of some of our election systems. He argued that Americans and Arizonans must have full confidence in our election processes and systems.