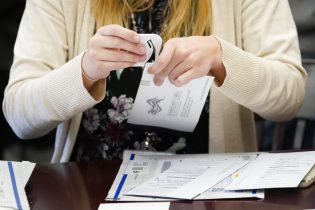 OAN Newsroom
UPDATED 6:59 AM PT – Thursday, November 12, 2020
The Trump campaign could be looking to block election officials from finalizing results in contested states as a legal battle continues to be waged over voter fraud.
According to reports Wednesday, the President's team could take this legal route in order to deny Democrat presidential nominee Joe Biden the change to a victory.
This comes as the team has filed lawsuits in Nevada, Pennsylvania, Georgia and Michigan. President Trump has raised concerns over rampant "voting irregularities" in these key battleground states.
"In Pennsylvania, partisan Democrats have allowed ballots in the state to be received three days after the election and we think much more than that," he explained. "And they are counting those without even postmarks or any identification whatsoever."
The President has continued to blast disturbing irregularities across the nation, while also nothing his campaign has been denied access to observe counting in certain cities.
Now 73,000,000 Votes! https://t.co/VSNfdzoFkK

— Donald J. Trump (@realDonaldTrump) November 12, 2020
If the lawsuits succeed in stopping the state's certification of results, state lawmakers can step in and provide an alternative slate of electors. This could increase President Trump's chances of winning the state if the new slate votes in his favor.
Meanwhile, allies of the President have sought to reassure the public it's common for presidential campaigns to pursue litigation following elections. Senate Majority Leader Mitch McConnell has addressed the uncertainty surrounding the results by assuring there's no reason for alarm.
"I think we need to quit all the hand-wringing, not act like this is extraordinary," he stated. "We're gonna get through this period and we'll swear in the winner on January 20th, 2021, just like we have every four years since 1793."
Cases surrounding the presidential elections must be resolved by December 8 in order to provide states enough room to select electors in time for the vote on December 14.