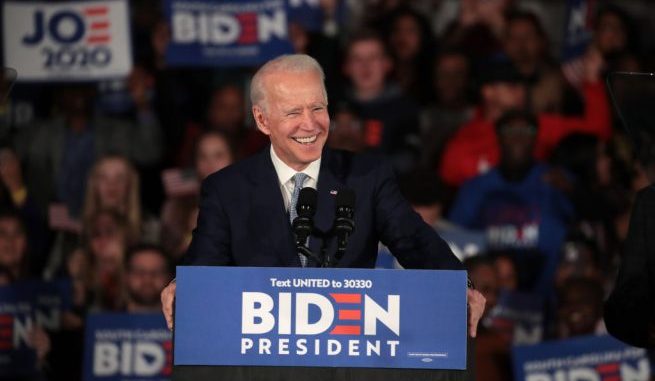 OAN Newsroom
UPDATED 4:15 PM PT – Saturday, November 7, 2020
Republicans are offering their thoughts on mainstream media's calling the 2020 election in favor of Joe Biden.
GOP senators, congressmen and leading Republicans have expressed their thoughts on the mainstream media calling the election.
On Saturday, their reactions mostly came in through Twitter with many rallying around President Trump and a few Republicans actually extending their hand to Biden.
Among them was Utah Senator Mitt Romney (R-Mass.), who said he and his wife congratulate Biden and Kamala Harris.
Ann and I extend our congratulations to President-elect Joe Biden and Vice President-elect Kamala Harris. We know both of them as people of good will and admirable character. We pray that God may bless them in the days and years ahead.

— Mitt Romney (@MittRomney) November 7, 2020
On the other hand, Florida Congressman Matt Gaetz (R-Fla.) took to Twitter to warn against "some republicans who are ready to throw in the towel now."
"There is no future for the Republican party if we don't stand and fight for President Trump in this critical moment," Gaetz said.
Ohio Congressman Jim Jordan (R-Ohio) pointed to the hypocrisy of the Democrat party, who in 2016 accused Russia of interfering in the election and would not accept the results, but in 2020 are slamming anyone who raises questions about election integrity.
Democrats in 2016:

"Russia interfered in the election. We will not accept the integrity of the results!"

Democrats in 2020:

"How dare you raise questions about election integrity!"

— Rep. Jim Jordan (@Jim_Jordan) November 7, 2020
A large part of the GOP response pointed out the media is not the one who gets to make the call regarding the President-Elect.
Tweets from Sen. Josh Hawley (R-Mo.) and congressmen Brian Babin (R-Texas), John Rose (R-Tenn.) and Jeff Duncan (R-S.C.) all noted the media doesn't determine who the President is, rather the people and the law do.
The media do not get to determine who the president is. The people do. When all lawful votes have been counted, recounts finished, and allegations of fraud addressed, we will know who the winner is

— Josh Hawley (@HawleyMO) November 7, 2020
Their comments echoed similar comments by Rudy Giuliani (R-N.Y.) in a news conference earlier Saturday.
"Don't be ridiculous," Giuliani stated. "Networks don't get to decide elections. Courts do."
Sen. Lamar Alexander (R-Tenn.) and RNC Chairwoman Ronna McDaniel (R-Mich.) both called for time to count valid votes and for the legal process to play out.
After counting every valid vote and allowing courts to resolve disputes, it is important to respect and promptly accept the result. The orderly transfer or reaffirming of immense power after a presidential election is the most enduring symbol of our democracy.

— Sen. Lamar Alexander (@SenAlexander) November 7, 2020
In the hours after the media's call, Sen. Lindsey Graham (R-S.C.) said he would investigate "all credible allegations of voting irregularities and misconduct."
Graham added he'd received a sworn affidavit from the Trump campaign alleging a Pennsylvania postmaster told workers he was back-dating ballots to Election Day, despite the ballots coming in after the deadline.