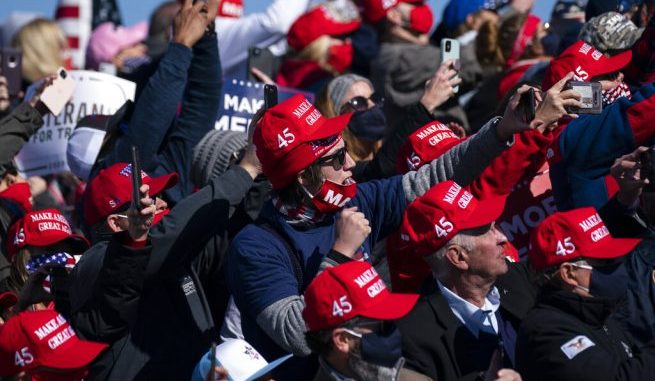 OAN Newsroom
UPDATED 9:48 AM PT – Monday, November 2, 2020
While the election cycle may be wrapping up, President Trump is only ramping up his efforts to make sure every voter feels heard.
On Sunday, the President visited five states — Michigan, Iowa, North Carolina, Georgia and Florida — to encourage voters to get to the polls early Tuesday to ensure their vote is counted.
In between remarks, the President took a moment to warn voters about the potential fallout if the results of the election are delayed.
"And I think it's a very dangerous decision because you're going to have one or two or three states, depending on how it ends up, where they're tabulating ballots," he stated. "And the rest of the world is waiting to find out and I think there's great danger to it."
While many voters have expressed their worries about not knowing the winner as a nation, financial analysts have voiced another concern. They suggested the market could slip while the election is decided. A recent poll of 700 investors found that "a disrupted election is their biggest financial worry" of the year.
The last time the results of the presidential election were in doubt, in the 2000 race between then-Gov. George W. Bush and Vice President Al Gore, the financial consequences were severe with the S&P 500 index, Dow Jones industrial average, and NASDAQ composite all fell dramatically as the country awaited results.
Election-related economic concerns are at the forefront of the minds of investors with voters consistently telling pollsters they believe the President is better equipped than his opponent, Joe Biden, to improve the economy.
During his rallies, President Trump took a few moments to remind Americans of how far the country has come.
"We had growth like nobody has ever seen in this country or probably any other country, " he stated. "…Joe Biden will shut down your economy, raise taxes…he's the only politician I've ever seen who said, 'we will raise your taxes.'"
While the President is focusing his efforts in the states that pollsters believe are up for grabs, he remains confident that his supporters will be out in full force across the nation Tuesday.
"To save the America we love, get every last person you know, get them to the voting booth in record numbers," urged President Trump. "Vote, vote, vote…join the red wave."