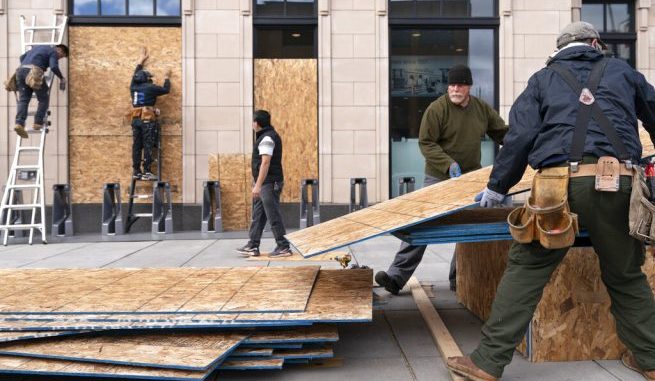 OAN Newsroom
UPDATED 10:31 AM PT – Monday, November 2, 2020
From Los Angeles to Washington, D.C. stores and offices are boarding up their storefronts to protect them from potentially violent protests. These concerns stem from summer demonstrations following the death of George Floyd, where multiple businesses had their windows smashed and merchandise stolen.
Manhattan stores in Midtown have already placed plywood panels over glass windows and some larger companies are taking it a step further. Ulta Beauty and Nordstrom will close early and send their employees home the night of the election. They are hiring security guards to watch facilities overnight.
"The nation seems like one big tinder box at the moment," said Jennifer Kingson, managing editor for Axios Business. "Not just because of presidential politics, but so many factors."
At least 11 organizations have applied for election week demonstration permits in Washington, D.C. Meanwhile, Denver will activate its emergency operation center, track protest groups and alert local businesses of security efforts.
Regardless of the winner election night, several expect Tuesday night to be chaotic. The decision to shutdown has been a hard one as pandemic closures still affect small businesses struggling to get back to normal.
Fears of possible unrest have also affected everyday people with many seeking ways to protect themselves and their families. In Saint Louis, a gun shop owner said his sales have more than tripled in recent months, which forced him to limit the amount of ammunition people could buy. He said the spike in sales was mostly first-time gun owners.
"It's firearms, ammunition…pretty much anything associated with a firearm has been extremely hard to get in sharp supply with COVID, the unrest earlier in the spring and then with the election coming up," explained Mark Campbell, owner of Mid America Guns. "
Reports estimate $500 million to $900 million in damages have been done to cities this year, but could be in the billions. Meanwhile, hundreds of work orders have been submitted to board up businesses as city leaders call for a peaceful election.