The prosecutor overseeing Portland on Monday filed charges against three people arrested during rioting on May Day.
Multnomah County District Attorney Mike Schmidt opted to charge three of the six people initially taken into custody.
Phoebe Loomis faces charges of felony riot and criminal mischief after allegedly smashing windows at two different Starbucks locations and at Sasse Wellness & Med Spa on May 1. Damages at each location are estimated to cost more than $1,000 to repair.
When Loomis was arrested, police officers found a bent metal bar in her possession.
Quang Nguyen was charged with felony riot, criminal mischief, and attempted criminal mischief. According to Schmidt's office, Nguyen destroyed a window at a Starbucks before trying, but failing, to destroy a window at two other Starbucks in downtown Portland.
Police found a hammer on the accused at the time of arrest.
Jeremiah Day was charged with unlawful use of a weapon, menacing, resisting arrest, interfering with an officer, and felony riot.
Day allegedly brandished a butterfly knife with blade extended toward an officer approximately 10 feet away from him. Day then walked back into a crowd and hid behind a person's umbrella. As officers watched, the man approached them while using the umbrella as a shield.
When officers warned the crowd that they could use force in response to the tumult, Day fled. Officers pursued Day and arrested him. He still had the knife in his possession when arrested.
Lawyers were not listed on the court docket for Loomis or Nguyen. A court-appointed lawyer representing Day didn't respond to a request for comment.
All three defendants were released on their own recognizance or on bail.
Loomis and Nguyen are set to be arraigned on May 4, court records show. Day appeared in court on Monday. His next court appearance is scheduled on July 29.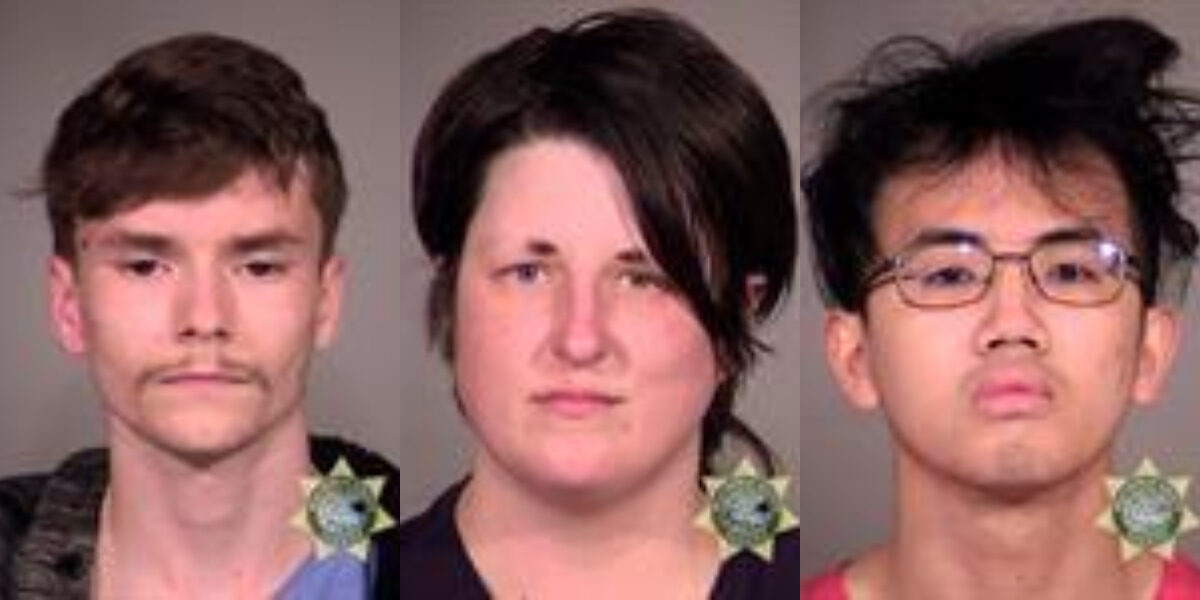 Two of the other arrestees were taken into custody on outstanding warrants while the sixth case was referred back to law enforcement by Schmidt's office for additional investigative follow-up.
Two other people arrested on May 3 for alleged crimes over the weekend have not yet been charged by Schmidt. Randy Graves was arrested on menacing and disorderly conduct charges and Charles Stubbs was taken into custody on unlawful use of a weapon, menacing, and disorderly conduct charges.
Schmidt shortly after entering office last year promised not to pursue some charges against people involved in demonstrations.
"These demonstrations are being used to righteously express grief, anger, and frustration over that senseless act of violence, and the countless other abuses people of color have endured throughout history at the hands of the legal system," he told reporters at the time, claiming the atypical move would lead to a safer community.
The office rejected 666 of the 974 cases that were referred to it between May and October 2020.
More recently, Schmidt called the property destruction and violence that dates back in Portland nearly 11 months—riots have taken place consistently since the death of George Floyd in Minneapolis—unacceptable.
"My office continues to prioritize the prosecution of people who are destroying property and committing violence—and this is nothing new. This is what we've been doing since I took office. That was my instruction to my deputies on day one: focus on, work with law enforcement and prosecute the people who are starting fires, who are destroying windows, and who are committing assaults," he said in a video statement.
"Recently, we have seen a positive shift from law enforcement making targeted arrests on the people who are accused of starting fires, destroying windows, and committing assaults. I want to thank our local law enforcement for prioritizing these cases. These targeted arrests are important; they allow us to focus our limited resources on the people causing the most harm, and it will ensure that people demonstrating without violence are protected."