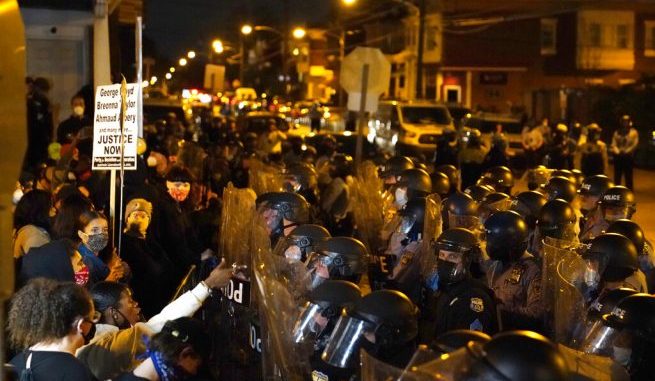 OAN Newsroom
UPDATED 12:15 PM PT – Wednesday, October 28, 2020
On Tuesday, the Trump administration responded to the ongoing violence in Philadelphia, Pa. and claimed that the looting and rioting is the result of the radical left's war on police.
Protests sparked after police fatally shot Walter Wallace Junior on Monday after he walked toward authorities while wielding a knife, despite being ordered to drop it. Viral footage of the event circulated on social media and prompted the riots.
The White House stated America can not allow mob rule and should follow the facts to ensure fair and just results. They added that they stand proudly with law enforcement and would send federal aid if needed.
Our statement on the riots in Philadelphia ⬇️ pic.twitter.com/bfgPJDn9C2

— Kayleigh McEnany (@PressSec) October 28, 2020
Authorities continue to work to contain the violent protests which have left the 'City of Brotherly Love' in chaos after hundreds of protesters took to the streets for a second night.
*Alert* A large crowd of appx 1000 is looting businesses in the area of Castor and Aramingo. Avoid the area

— Philadelphia Police (@PhillyPolice) October 28, 2020
On Tuesday, authorities responded to rioters that had looted local businesses and department stores, including 'Target,' 'Walmart' and 'Family Dollar.' The national guard has been deployed and authorities have asked residents to remain indoors in order to avoid violence.
The Philadelphia Police Department is requesting that all residents in the 12, 16, 18, 19, 24, 25, and 26th Districts remain indoors except when necessary. These areas are experiencing widespread demonstrations that have turned violent with looting.

— Philadelphia OEM (@PhilaOEM) October 28, 2020
Phila. Police commanders say the situation has "rapidly gone downhill" along Aramingo Ave. — a "total loss," they say, from looting. Chopper 3 shows video of demonstrators & police at 52nd and Chestnut. As of this post, no injuries to police tonight. @CBSPhilly pic.twitter.com/cPjyAqSpys

— Joe Holden (@JoeHoldenCBS3) October 28, 2020
Roughly 500 hundred gathered at a West Philadelphia park and police arrested 90 people who violently confronted officers during the protests. In a statement shared with the public, the father of Wallace denounced the aggressive acts and asked the demonstrators to stop the chaos.
"I don't condone no violence tearing up the city, looting up stores and all this chaos," stated Walter Wallace Sr. "I want everybody having respect for my family and my son to stop this violence and chaos that's going on in the city."
According to reports, at least 30 police officers were injured Monday night as rioters hurled projectiles at them. Additional law enforcement has been sent to help contain the unrest. Officers have also closed off sections to Philadelphia's commercial district.