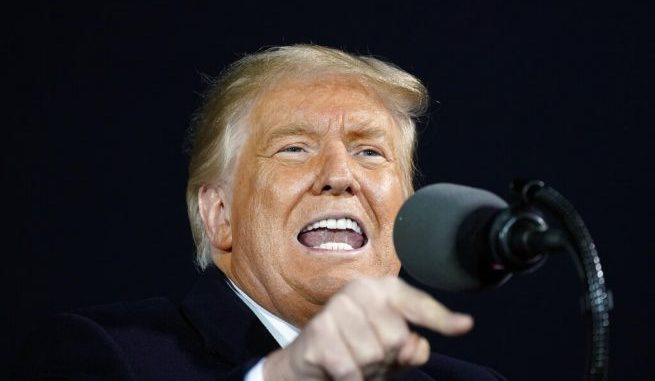 OAN Newsroom
UPDATED 5:53 PM PT – Wednesday, October 14, 2020
President Trump called out the Bidens after bombshell emails revealed Hunter had arranged business deals between Ukrainian officials and his father, then-Vice President Joe Biden. On Wednesday, the President voiced disgust regarding the reported misconduct of Hunter Biden.
He called the Bidens "crooks" and applauded The New York Post for their reporting.
The newspaper revealed Hunter Biden had set up meetings with his father and officials from the Ukrainian energy firm Hunter had worked for at the time, Burisma Holdings.
President @realDonaldTrump: The Hunter Biden emails show that Joe Biden's repeated claim that he has never spoken to Hunter about his overseas business dealings was a complete and total LIE pic.twitter.com/8eYoPGsJyA

— Team Trump (Text VOTE to 88022) (@TeamTrump) October 14, 2020
The President has said he found the Biden corruption to be worse than he previously thought.
"They're grifters and crooks," he said. "This is what we're running against and it's a disgrace."
President Trump went on to slam Twitter and Facebook for suppressing reports about Hunter Biden's corruption. In a tweet, the President said the social media giants are trying to cover up the New York Post's smoking gun story by blocking access to it.
So terrible that Facebook and Twitter took down the story of "Smoking Gun" emails related to Sleepy Joe Biden and his son, Hunter, in the @NYPost. It is only the beginning for them. There is nothing worse than a corrupt politician. REPEAL SECTION 230!!! https://t.co/g1RJFpIVUZ

— Donald J. Trump (@realDonaldTrump) October 14, 2020
President @realDonaldTrump rips Twitter and Facebook removing the New York Post Story about Hunter Biden pic.twitter.com/RO5wEYHobm

— Team Trump (Text VOTE to 88022) (@TeamTrump) October 14, 2020
He added these revelations are only the beginning of the Bidens' problems. According to him, there is nothing worse for the country than the corrupt pair of Joe and Hunter Biden.
"Vice President Biden, you owe the people of America an apology, because it turns out you are a corrupt politician."—@realDonaldTrump in Iowa pic.twitter.com/LwjwGeccCD

— GOP (@GOP) October 15, 2020
In the meantime, the Senate Homeland Security Committee has announced an investigation into these emails and their substance.