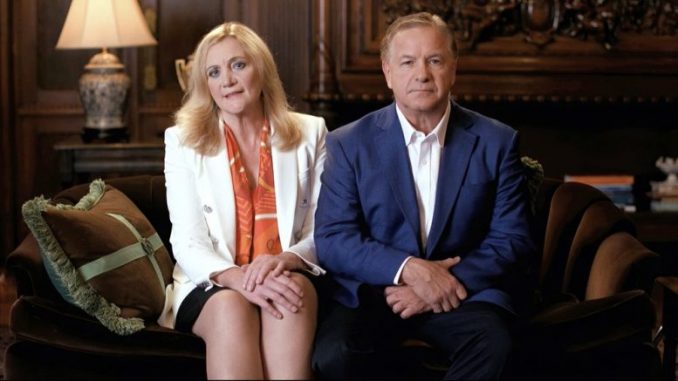 OAN Newsroom
UPDATED 7:54 AM PT – Wednesday, October 7, 2020
The St. Louis couple who took arms against protesters outside their home could face jail time and possibly lose their livelihood. A grand jury indicted Mark and Patricia McCloskey on Tuesday, charging them with unlawful use of a weapon and tampering with evidence.
The McCloskeys are standing by their actions by arguing that they were exercising their Second Amendment right and are protected under a Missouri law allowing deadly force on intruders.
"There's no doubt about it, the government chooses to persecute us for doing no more than exercising our right to defend ourselves, our home, our property, our family," stated Mark McCloskey. "And now, we're getting drug here time after time and for what? We didn't fire a shot."
Mark McCloskey says he and his wife are being "persecuted" for being charged with felonies while #STL city counselors office opts not to prosecute trespassers outside their Portland Place mansion. pic.twitter.com/IYRDXPLYAz

— Joel Currier (@joelcurrier) October 6, 2020
The couple gained notoriety from the late June incident after a viral video showed Mark wielding an AR-15 and Patricia holding a handgun. They became popular among conservative audiences, including President Trump, and were given speaking time on the first day of the Republican National Convention.
Meanwhile, nine protesters connected with the demonstration were later charged with misdemeanor trespassing. However, the city decided to drop the charges after noting that the protesters felt threatened by the McCloskeys.
"Every single human being who was in front of my house was a criminal trespasser…they broke down our gate, they trespassed in our property," Mark continued. "People who were violently protesting in front of our house, screaming death threats…nobody gets charged, but we get charged."
If the couple is convicted, they could face up to four years behind bars and lose their licenses to practice law. They are expected to return to court for an arraignment hearing October-14.
Missouri Gov. Mike Parson (R) has been watching the couple closely and hinted at possible pardons.