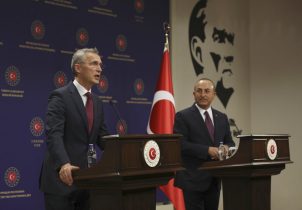 OAN Newsroom
UPDATED 4:35 PM PT – Wednesday, October 7, 2020
NATO Secretary General Yens Stoltenberg has called for a peaceful, negotiated solution to the ongoing military conflict between Armenia and Azerbaijan. On Wednesday, Stoltenberg reiterated there is no military solution to the fighting in the Nagorno-Karabakh region.
"All parties involved need to cease fighting immediately," he said. "We need a ceasefire."
The Armenian majority region of Azerbaijan, which is currently held by the Armenian military, was attacked by the Azeri military forces several days ago.
The NATO chief has since urged diplomats to step up their efforts to end the bloodshed.
"We need a political process to find a political, peaceful, negotiated solution," added Stoltenberg. "I strongly believe that, because the only way to find a peaceful solution is through negotiations."
He also warned of the ongoing military buildup in eastern Europe amid elevated tensions between NATO allies and the Putin regime.