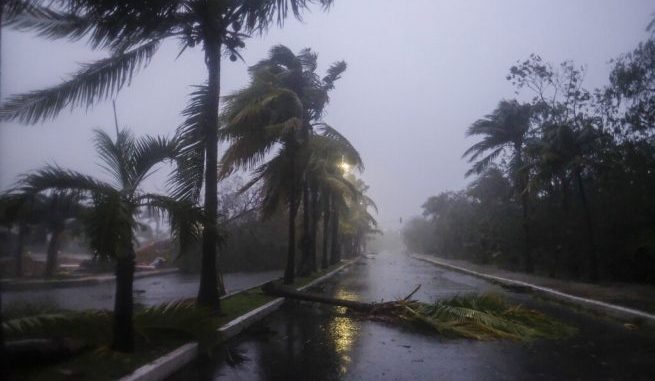 OAN Newsroom
UPDATED 3:12 PM PT – Wednesday, October 7, 2020
Officials along the U.S. Gulf Coast are warning residents to prepare after Hurricane Delta touched down in Mexico on Wednesday. Although Delta has been downgraded to a Category Two storm with 100 mph winds, the National Hurricane Center has predicted it may restrengthen into a Category Four later in the evening.
Evacuations have been issued along the Gulf Coast. Experts believe the storm will make landfall in Louisiana on Friday.
Hurricane #Delta's tropical-storm-force winds are most likely to begin along portions of the Louisiana and extreme southeastern Texas coast Friday morning. The rest of today and Thursday are the days to prepare! https://t.co/p28HdwkGsV pic.twitter.com/ypQ1s0gXBm

— National Hurricane Center (@NHC_Atlantic) October 7, 2020
State Governor John Bel Edwards encouraged residents to put the next few days to good use.
"We've been given a rare gift here because this forecast is telling us several days in advance that we can expect to be hit by a hurricane," he said. "I'm encouraging everybody to use the time you have available to you between now and when it's too dangerous to continue to prepare, evacuate, get yourself, your family in the best possible position for this storm."
A Storm Surge Watch is in effect for #Delta from High Island Texas to the Alabama/Florida border, including adjacent bays and lakes. Maximum storm surge inundation of 7-11 ft above ground level is expected for portions of the #Louisiana coast. https://t.co/d8MKt3jGnv pic.twitter.com/t6HlM25iON

— National Hurricane Center (@NHC_Atlantic) October 7, 2020
Delta has also had a severe impact on offshore crude oil production in the gulf, reportedly shutting down 80% of operations there.
President Trump has since received an update on Hurricane Delta. On Twitter, he warned Gulf Coast residents to be prepared and listen to the directions from state and local officials.
Was just briefed on Hurricane Delta, and spoke with @GovAbbott of Texas and @LouisianaGov John Bel Edwards. Please heed the directions of your State and Local Officials. We are working with them very closely — please be prepared, be careful, and be safe! https://t.co/hi01bnNV6M

— Donald J. Trump (@realDonaldTrump) October 7, 2020