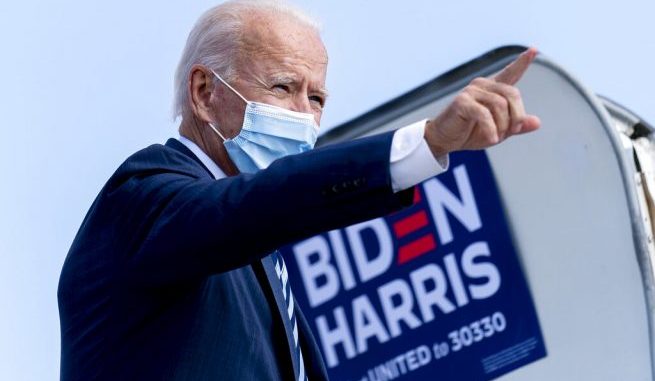 OAN Newsroom
UPDATED 1:25 PM PT – Tuesday, October 6, 2020
Democrat presidential hopeful Joe Biden recently faced criticism from President Trump over his proposed abortion policies. The President tweeted Tuesday alleging Biden will take a more extreme position on abortion than other members of the Democrat Party.
Wow. Joe Biden just took a more Liberal position on Roe v. Wade than Elizabeth Warren at her highest. He also wants to PACK our great United States Supreme Court. This is what the Dems will do. Remember as they try changing positions before elections end. GET OUT AND VOTE!

— Donald J. Trump (@realDonaldTrump) October 6, 2020
President Trump also alleged Biden sides with the governor of Virginia who has voiced his support for third trimester abortions under specific health circumstances. He went on to accuse Biden of condoning 'born-alive' abortions, which he labeled as "execution."
Biden and Democrats just clarified the fact that they are fully in favor of (very) LATE TERM ABORTION, right up until the time of birth, and beyond – which would be execution. Biden even endorsed the Governor of Virginia, who stated this clearly for all to hear. GET OUT & VOTE!!!

— Donald J. Trump (@realDonaldTrump) October 6, 2020
Meanwhile, Biden's running mate, Kamala Harris, has repeatedly advocated to end abortion restrictions. She even voted against a bill requiring doctors to treat babies 'born-alive' after a failed abortion.
Biden confirmed at a town hall Monday that he would push to codify Roe v. Wade in order to keep abortion legal even if the Supreme Court were to strike it down.
The Biden campaign also vouched to reinstate federal funding for abortion, which is a move that would undo President Trump's current policies and flip-flop on Biden's earlier support of an amendment limiting the procedure's federal funding. Biden faced criticism in 2019 for not quickly condemning the Hyde Amendment, which confines government funding of abortion to specific cases.