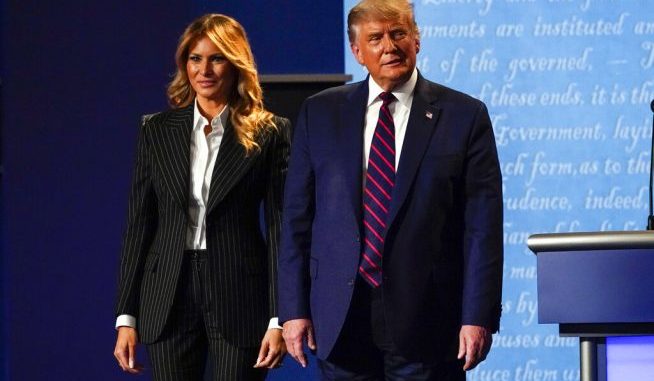 OAN Newsroom
UPDATED 5:01 AM PT – Friday, October 2, 2020
President Trump and First Lady Melania Trump are beginning quarantine procedures after they tested positive for COVID-19. The President made the announcement on Twitter early Friday morning, noting they will begin the recovery process immediately.
Tonight, @FLOTUS and I tested positive for COVID-19. We will begin our quarantine and recovery process immediately. We will get through this TOGETHER!

— Donald J. Trump (@realDonaldTrump) October 2, 2020
In a statement shared with reporters, the President's physician said President Trump and Melania were "both doing well" and will be isolating in the White House for the time being..
The first couple were tested after White House advisor Hope Hicks tested positive for the coronavirus while traveling recently with the President and other officials across the nation.
Hicks reportedly began experiencing symptoms of the virus on Air Force One while traveling back from the President's recent Make America Great Again rally in Minnesota on Wednesday. She was immediately quarantined from others while on the flight.
Hicks served as the White House Communications Director from August of 2017 to March of 2018 before returning to the White House in February of 2020 as a Councilor to the President.
Alongside President Trump, Hicks also reportedly flew with other members in the President's cabinet, including top aides Jared Kushner and Dan Scavino.
At the end of his announcement, the President shared an encouraging message with the American people stating, "we will get through this together!" First Lady Melania echoed those encouraging remarks in her own tweet regarding the matter.
As too many Americans have done this year, @potus & I are quarantining at home after testing positive for COVID-19. We are feeling good & I have postponed all upcoming engagements. Please be sure you are staying safe & we will all get through this together.

— Melania Trump (@FLOTUS) October 2, 2020