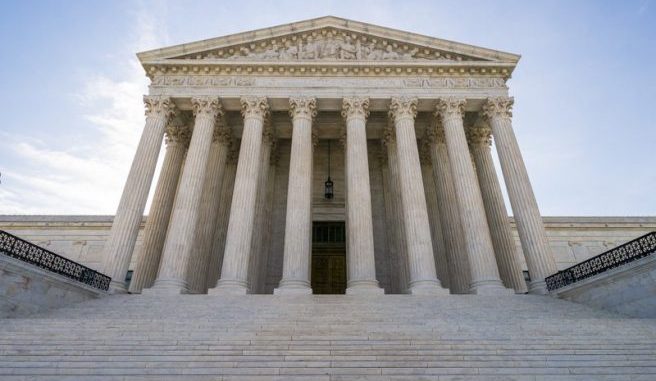 OAN Newsroom
UPDATED 9:29 AM PT – Friday, September 25, 2020
According to President Trump, failing to nominate and confirm a new Supreme Court justice could spell disaster for the country. He highlighted the dangers of not moving forward on the vacant seat during a Thursday rally in Jacksonville, Florida.
While the President remains confident in his eventual victory in November, he stressed it's imperative for the GOP to make sure a conservative judge occupies the seat as soon as possible to prevent Democrats from attempting to pack the court in the future and pave the way for its radicalization towards the left.
"He (Joe Biden) wants to pack the court Supreme Court with radicals who will terminate the Second Amendment, confiscate your firearms, eliminate the right to self-defense, strike under God from the Pledge of Allegiance at all other places, tear down crosses from public spaces and force taxpayers to fund extreme late Term abortion," said President Trump. "These far left justices would release violent criminals, shield foreign terrorists, impose sanctuary cities and declare the death penalty totally unconstitutional."
The President was emphatic on this point, stating Biden's desire to appease far-left groups within his party would mean any Supreme Court nominee of his choosing would effectively be selected by these very people.
It's clear that If Biden wins the WH, Dems will immediately move to pack the courts to increase their political power. As part of their power-grab, Dems will undoubtedly move to get rid of the 2nd Amendment. Don't let these leftwing radicals get away with it, vote Trump!!! #MAGA

— Donald Trump Jr. (@DonaldJTrumpJr) September 20, 2020
According to President Trump, this is behind the former vice president's refusal to release a list of his potential nominees as a list populated by moderates could alienate the far-left while one full of radicals would drive away more level-headed voters.
"My opponent refuses to release his lists of potential justices because they will be hand-picked by extremists," the President stated. "…I could already tell you: the people on that list would not be good, it would not be pretty."
He also stressed Democrats are not beyond pushing the bounds of convention should they not get their way in blocking his nomination and could very well seek to "pack the court," adding beyond the nine set by the Judiciary Act of 1869 in order to gain back control over the nation's top judicial body.
Luckily, the President added, the Republican Party seems well poised to present a united front and ensure the integrity of the Supreme Court against the efforts of the far-left.
"Do you see what's going on with the Republican Party? How unified the Republican party is?" he asked. "We're unified, it's a beautiful thing to say."