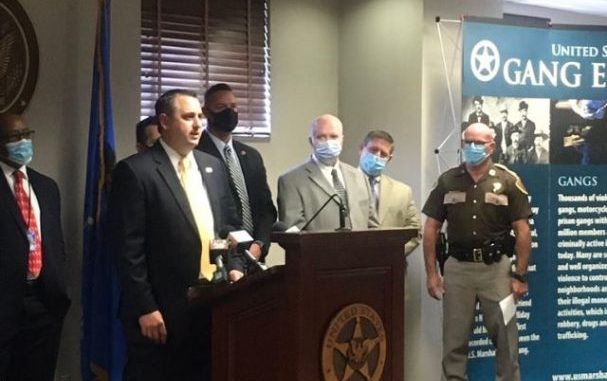 OAN Newsroom
UPDATED 12:00 PM PT – Friday, September 18, 2020
U.S. marshals have arrested over 260 people following an operation that targeted gang activities in Oklahoma. On Thursday, officials held a press conference to discuss the collaborative effort with Oklahoma City Police, which was deemed "Operation Triple Beam."
According to U.S. marshals, more than 140 of those arrested were confirmed to be gang members.
Along with these arrests, law enforcement recovered five missing children. They also seized several firearms and narcotics.
Today, Oklahoma law enforcement and the U.S. Marshals Service announced the success of Operation Triple Beam. As a result of OTB, 141 gang members were arrested, 72 firearms were seized, and 9kg of narcotics were confiscated. Well done to all those on the OTB task force! pic.twitter.com/qXZUujRyv0

— U.S. Attorney WDOK (@USAO_WDOK) September 17, 2020
Officials have said the primary goal of the operation was to make communities safer.
"It feels good to know we're putting dangerous individuals behind bars," stated U.S. attorney Tim Downing. "More importantly, our efforts are met with a sense of accomplishment that we are making all neighborhoods safer, not just in Oklahoma City, but all across our district."
Excerpt of USA Downing's remarks yesterday praising the men and women making arrests, and thanking Oklahomans for supporting them. Operation Triple Beam OKC = 262 arrests, 141 gang members, 72 firearms, 9kg of narcotics. #BackTheBlue @USAttorneys @USMarshalsHQ pic.twitter.com/MAroDWi9aA

— U.S. Attorney WDOK (@USAO_WDOK) September 18, 2020
The operation officially ended on September 6th.