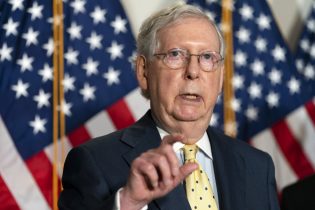 OAN Newsroom
UPDATED 8:43 AM PT – Wednesday, September 16, 2020
Senate Majority Leader Mitch McConnell said he's confident with the progress in the Breonna Taylor investigation. While speaking to reporters Tuesday, the Kentucky senator said he believes the state's attorney general is competent and is handling the case properly.
His support comes as Kentucky Attorney General Daniel Cameron faces public pressure to complete the investigation and bring charges toward the police officers involved. McConnell reaffirmed Cameron will proceed when he makes a decision regarding which charges are appropriate for the case.
"I have a lot of confidence in the Attorney General, I think when he fully understands what charges are warranted by the facts that they are investigating," he explained. "Obviously, the investigation seems to have been more complicated than a lot of people felt."
Meanwhile, the city of Louisville agreed to pay $12 million to the family of Taylor to settle a wrongful death lawsuit. Family attorney Ben Crump said in a press conference Tuesday, the historic deal also includes instituting reforms aimed at preventing future deaths at the hands of city police.
Back in March, the 26-year-old EMT was fatally shot by police during a no-knock search warrant. While the payout is substantial, Crump said securing comprehensive police reform as part of the deal is just as significant.
The family said although the city leadership has taken a significant step, it's now the Kentucky attorney general's turn. Their focus is now toward those criminal charges of second-degree manslaughter, at the minimum, against the police officers to bring full justice for Breonna Taylor.