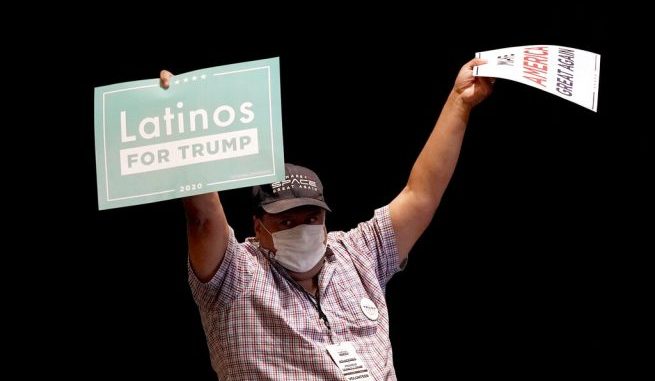 OAN Newsroom
UPDATED 9:47 AM PT – Tuesday, September 15, 2020
President Trump doubled down on his promise to defend the American dream while hosting a 'Latinos for Trump' roundtable event in Phoenix, Arizona.
After wrapping up a briefing on the wildfires in California Monday, the President traveled on Air Force One to the Grand Canyon State.
Large crowds gathered outside the Arizona Grand Resort ahead of the President's event, where many could be seen waving 'Make America Great Again' flags and heard chanting "four more years."
"I think he is an amazing president," said Arizona resident Tracy Buelna. "He keeps his promises, he cares about our country and he's an extremely patriotic American…I can't wait to vote for him in the election."
A panel of Latino speakers joined President Trump for the roundtable event. They praised the administration's economic policies for directly benefiting the Latino community.
The President compared his efforts fighting for the well being of the American people to his opponent, Democrat presidential nominee Joe Biden, who the President said refuses to leave his basement.
"Joe Biden spent 47 years selling out the Hispanic American community, sending your jobs to China, raising your taxes, surging regulations…it doesn't sound too good to me," he stated.
Over the weekend, President Trump highlighted recent polling in other parts of the country showing a surge in support among the Latino community for his reelection campaign.
Monday's visit marked the president's fifth trip to Arizona, which is a crucial state ahead of November's election. The President took to Twitter to comment on on the visit while departing the state to travel back to D.C.
Left California for Arizona. Leaving Arizona after a GREAT meeting with our incredible Hispanic community. Heard fantastic and inspiring success stories. Will be landing in Washington (D.C.) soon! Big White House ceremony tomorrow morning with Israel, UAE, and Bahrain.

— Donald J. Trump (@realDonaldTrump) September 15, 2020