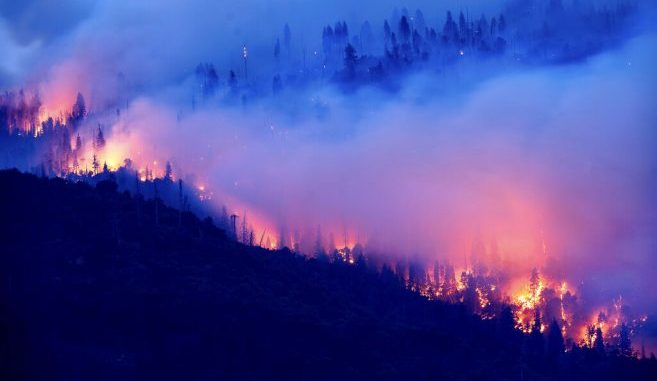 OAN Newsroom
UPDATED 2:15 PM PT – Thursday, September 10, 2020
At least seven people are dead amid a series of wildfires, which continue to burn across the western United States. According to reports, more than 100 major fires have destroyed thousands of homes and burned up nearly 7,000 square miles.
Three are dead and another dozen have been reported missing in northern California. Three deaths were reported in Oregon, while Washington state confirmed one death.
Oregon Governor Kate Brown claimed five towns have been "substantially destroyed."
"We expect to see a great deal of loss as a result of these fires, both in terms of structures and in terms of human lives," she said. "It, as I mentioned earlier, could be the greatest loss in human lives and property due to wildfire in our state's history."
According to the National Weather Service, gusty winds should weaken going into the weekend. However, the threat of fire and poor air quality due to smoke will remain high.
Meanwhile, California Governor Gavin Newsom recently updated residents on his state's efforts to contain the hundreds of wildfires burning in California.
On Wednesday, he announced 50 new fires had sparked overnight. More than half of them are considered to be large fire complexes.
"We now have 28 large fire complexes that we're battling here in the state of California. Four fires, in particular, have generated a lot of attention: the Fork Fire, the Bear Fire up in Butte County, and the Willow Fire. Those three, in particular, are points of concern." – Gavin Newsom, Governor of California
The Willow Fire broke out on Wednesday in Yuba County, which is just north of Sacramento. The Bear Fire in nearby Butte County has grown rapidly to more than 97,000 acres.
Authorities have been encountering new challenges as resources and manpower are stretched thin across the state.
In mid-August, Newsom declared a statewide emergency and brought firefighters in from across the country to help battle the blazes. Californian officials have since claimed it's not enough and are asking Canada for help.
"We're all competing for fire specific resources, so it does provide a challenge," said Emergency Services Chief Brian Marshall. "It's a challenge to all the states being affected right now."
Despite these setbacks, the governor believes this week's weather could provide an advantage in containment efforts.
"We're encouraged that the wind activity appears to be dying down. The rest of the week looks a little bit more favorable from a wind perspective and a weather perspective. That will aid our efforts on these 28 major fires in the state." – Gavin Newsom, Governor of California
A red flag warning has been issued for the weekend. Officials have urged residents to prepare for evacuations if necessary.