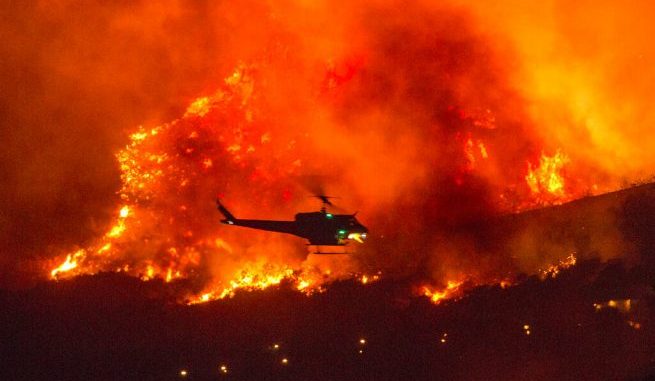 OAN Newsroom
UPDATED 2:13 PM PT – Sunday, September 6, 2020
Wildfires continue to ravage the Golden State amid a major heat wave.
In Fresno and Madera counties, the Creek Fire has been burning since Friday. So far, the blaze has forced numerous evacuations and a number severe injuries have been reported.
Several new fire in California today. The #CreekFire in Fresno County. #ValleyFire in San Diego County. #ElDoradoFire in San Bernardino County. Lots of smoke seen on satellite. pic.twitter.com/fnHu0ZgbvK

— Drew Tuma (@DrewTumaABC7) September 6, 2020
Massive rescue operations have been underway since Saturday, when hundreds of campers became trapped near the Mammoth Pool Reservoir with no safe evacuation route. Operations were conducted by Fresno and Madera county officials, along with the National Guard, as helicopters lifted people out of the area.
Evacuees from the Creek Fire are receiving aid from the Central California Red Cross.
"We can see what's the best plan for them tonight. Will they be staying with friends or family? Do they need a hotel? We can help meet those needs once they come here." – Nicole Maul, Central California Red Cross
A backpacking trip cut short by unforeseen thunder, ash rain, and having to drive through literal fire to evacuate #SierraNationalForest in time. Grateful to the SNF ranger who led us down… wish we we got her name. #CreekFire @mercnews @sfchronicle @ABC7 @KTVU pic.twitter.com/37Ys7XGJ2a

— Jules (@julipdoe) September 6, 2020
Meanwhile, the CZU Complex Fire continues to burn in San Mateo and Santa Cruz counties. The blaze has destroyed hundreds of homes.
"It was very shocking just seeing a pile of rubble, seeing the steps that lead up to what is nothing now," explained one Boulder Creek resident.
Newly released time-lapse footage shows huge flames and a tower of smoke rising from the CZU Lightning Complex fire in California, when it was in its early stages. pic.twitter.com/zSVUZruKhT

— News 5 Cleveland (@WEWS) August 31, 2020
Many of those who were forced to flee their home are still unable to return.
The El Dorado Fire, which erupted Saturday, continues its path of destruction in San Bernardino County. Officials have issued mandatory evacuation orders for Oak Glen, Forest Falls and parts of Yucaipa.
Back to back air drops right near homes as crews battle the El Dorado Fire @nbcla #nbcla pic.twitter.com/EKhIzbLipp

— Kim Tobin (@KimTobinNBCLA) September 6, 2020
An evacuation center has been established by the Red Cross at the Yucaipa Community Center. As of Sunday, no injuries or structural damage has been reported.
Fire fighters continue to battle each of these wild fires amid the heat wave, which impacted most of Southern California over Labor Day weekend.
More than 14,800 firefighters are continuing to battle 23 major wildfires. CAL FIRE has increased staffing in preparation for critical fire weather across the State.
The latest numbers on all active large wildland fires at: https://t.co/6s2QmGvwFi pic.twitter.com/rZAOp5pdzv

— CAL FIRE (@CAL_FIRE) September 6, 2020