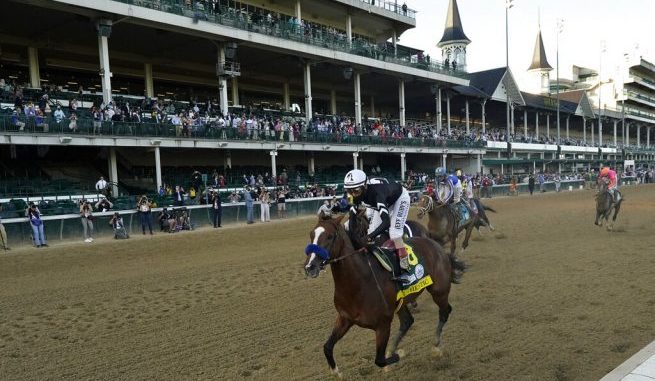 OAN Newsroom
UPDATED 9:43 AM PT – Sunday, September 6, 2020
Demonstrations broke out in Louisville ahead of this year's Kentucky Derby. Various groups affiliated with "Black Lives Matter" came together to protest the killing of Breonna Taylor, which occurred earlier this year.
Taylor was killed in her home when police conducted a no-knock search warrant related to drug charges against her ex-boyfriend.
The case remains ongoing, but protesters are upset as a verdict has not yet been reached.
In the meantime, Black Lives Matter has been protesting outside of the Louisville Courthouse for the last few months.
On Friday, the "Until Freedom" group issued a press release announcing a protest against the running of the Kentucky Derby.
However, Until Freedom was not the only group to announce their presence outside of the derby. The NFAC pledged they would return to Louisville on the day of the derby after last being there in late July.
The NFAC is an armed militia affiliated with Black Lives Matter. The group's grand master, John Jay Johnson, warned leadership in Louisville to reach a verdict on the case before September 5th, the day of the Kentucky Derby.
"Do I believe they can do it in four weeks, when it usually takes eight weeks?" he asked. "Well, let's just say I wouldn't want to be in their shoes if they didn't."
NFAC, an armed black supremacist group, converged upon the Kentucky Derby today to protest against white people. pic.twitter.com/5qJKIXJG9U

— Ian Miles Cheong (@stillgray) September 5, 2020
The grand master made a later appearance on television, where he announced their demonstration at the derby was no coincidence.
"We would be returning to Louisville on the 5th of September, the same day of the Kentucky Derby," added Johnson. "That was no accident, that was a very calculated and thought out chess move."
These warnings prompted armed right-wing militias to convene in Louisville. They have claimed they are protecting the city from being burned down.
The two groups were expected to confront each other at Jefferson Square Park outside of the Churchill Downs Racetrack. People on both sides were armed with rifles.
According to reports, the NFAC did a weapons check prior to their march. One of the leaders reportedly said those with only a pistol would not be allowed in the formation.
NFAC on the move headed toward Churchill. Group just collectively loaded their weapons. Grandmaster Jay told the group to not chamber a round. @WDRBNews pic.twitter.com/As5SsHg2wU

— Travis Ragsdale (@TravisRagsdale) September 5, 2020
Earlier in the day, unarmed protesters confronted right-wing militias outside of the Louisville Courthouse. The confrontation reportedly resulted in no violence and produced conversations between the two opposing sides.