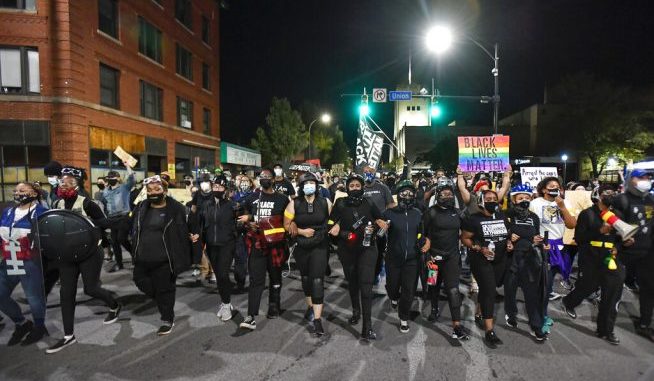 OAN Newsroom
UPDATED 11:15 AM PT – Saturday, September 5, 2020
On Friday, Rochester police union leader Michael Mazzeo said he believes the officers involved in the death of Daniel Prude were following police training and did not intend to harm him.
"The message that was conveyed from the chief's office at that time was that there was no concerns with the actions of our members and that they had followed correct protocols, further training," he stated.
Mazzeo's remarks came a day after the city's mayor announced she would be suspending the officers involved in the incident.
"Now I am taking action to address these challenges and build upon our city's work to address racism in all of its forms," stated Mayor Lovely Warren. "Doing this work has been at the heart of my service as mayor of this city."
On Wednesday, Prude's family released a video of the incident that occurred in March. Protests have erupted as a result of the release of the body cam footage.
The video showed Prude naked, unarmed and handcuffed on the ground. He began spitting at the officers, which prompted them to put a hood over his head. Union officials confirmed the hood is meant to protect police from germs.
Prude sat up and continued to yell at the officers. The officers then pushed him to the ground.
One officer appeared to push his head to the pavement for several minutes, until they realized he was not breathing.
Paramedics attempted to revive Prude and transported him to the hospital, where he died seven days later.
A medical examiner reported the death was a result of homicide as well as intoxication from PCP.
The city's mayor has claimed she was not informed about the suffocation until recently. According to her, the police department initially told her the cause of death was solely drug related.
The case remains under investigation by New York's attorney general.