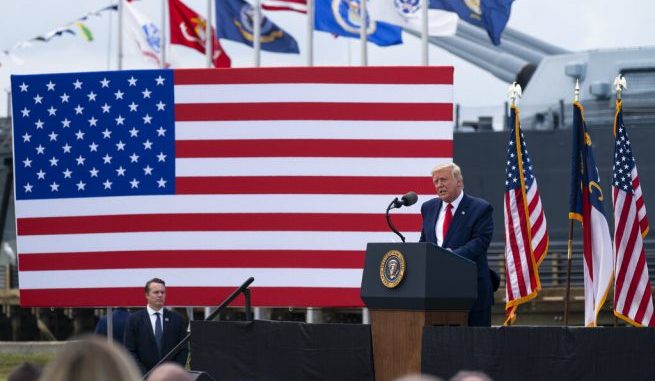 OAN Newsroom
UPDATED 7:00 AM PT – Thursday, September 3, 2020
President Trump made a trip to the key battleground state of North Carolina on Wednesday to commemorate 75-years since the formal victory of the U.S. over Japan, which ended WWII.
He delivered remarks in front of the historic Battleship North Carolina, which is located in Wilmington. During his speech, the president officially granted Wilmington the honor of being the first American WWII heritage city.
"With this designation we proudly declare that in America we don't tear down the past, we celebrate our heroes," President Trump stated. "We cherish our heritage, we preserve our history and we build the future."
Wilmington was seen as a major contributor to U.S. war efforts during the second world war as it's home to the North Carolina Shipbuilding Company, which constructed military ships during the war.
While speaking to reporters before leaving the city, the president said the U.S. is quickly recovering from coronavirus and he is optimistic for the economic future of the country.
"We're rounding the turn…vaccines are happening, therapeutics are happening," he stated. "You look at the statistics, they're really good…we're going to have a phenomenal quarter."
The president warned if Biden becomes president, however, an economic up-turn may not occur.
"And I say that with a caveat because Biden, if he knows what he's doing…which I don't think…Biden wants to raise your taxes by three and four times," he explained. "It's crazy and that would kill what we're doing, so we can't let it happen."
President Trump also extended a helping hand to Portland, Oregon, which is still being slammed by left-wing violence. He said he would do the same thing that was done in Kenosha, Wisconsin if local leaders asked for help.
"American warriors did not defeat fascism and oppression overseas only to watch our freedoms be trampled by violent mobs here at home." pic.twitter.com/zoxe1kzM76

— The White House (@WhiteHouse) September 2, 2020
Meanwhile, current polls for North Carolina show President Trump narrowly beating former Vice President Joe Biden in the state.