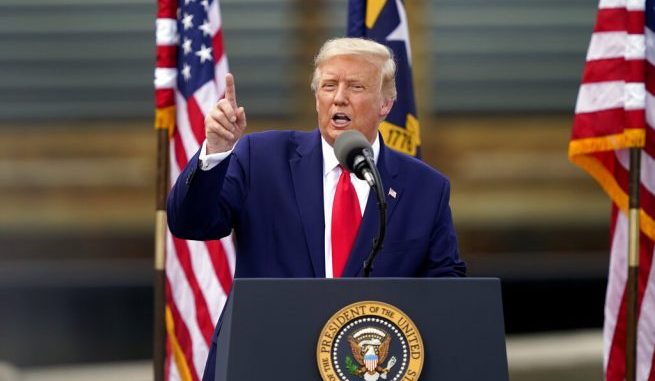 OAN Newsroom
UPDATED 4:05 PM PT – Thursday, September 3, 2020
With just two months until Election Day, the president is ramping up his message to Americans to participate in democracy. Earlier this week, he suggested citizens should try to vote twice to test the functionality of the mail-in ballot system.
During an interview, White House Press Secretary Kayleigh McEnany clarified the president is not encouraging anyone do anything unlawful. She explained the president instead wants people to be confident their votes are tabulated amid the "whole new fraudulent system of mail-in voting."
Exchange between @jonkarl & @PressSec on voting.

Jon Karl: "Do you believe it is illegal to vote twice in this country?"

Kayleigh McEnany: "The president does not condone unlawful voting."

Full video here: https://t.co/6bTwrMa5OG pic.twitter.com/YtvzgL1QZR

— CSPAN (@cspan) September 3, 2020
This came after President Trump suggested Americans test the voting system by trying to cast their ballot in person if they first mailed in their presidential pick.
"If it tabulates, it won't be able to do that. So let them send it in, let them go vote. If their system is as good as they say it is, then obviously they won't be able to vote. If it isn't tabulated, they'll be able to vote. That's the way it is." – Donald Trump, 45th President of the United States
On Twitter, the president reiterated Americans need to take precautions so their "vote counts." He urged voters to make sure their ballots are not "lost, thrown out or in any way destroyed."
Based on the massive number of Unsolicited & Solicited Ballots that will be sent to potential Voters for the upcoming 2020 Election, & in order for you to MAKE SURE YOUR VOTE COUNTS & IS COUNTED, SIGN & MAIL IN your Ballot as EARLY as possible. On Election Day, or Early Voting,..

— Donald J. Trump (@realDonaldTrump) September 3, 2020
….after you Vote, which it should not, that Ballot will not be used or counted in that your vote has already been cast & tabulated. YOU ARE NOW ASSURED THAT YOUR PRECIOUS VOTE HAS BEEN COUNTED, it hasn't been "lost, thrown out, or in any way destroyed". GOD BLESS AMERICA!!!

— Donald J. Trump (@realDonaldTrump) September 3, 2020
In the meantime, critics have accused him of trying to encourage people to commit a felony. Attorney General William Barr has said they're missing the mark on the real danger America is facing.
Barr stated it's been widely acknowledged for years that mail-in voting heightens the potential for fraud and other grave risks. This year, he claimed Democrats have flipped the narrative.
He went on to discuss the significance of trust in election results amid a time of national debate and turmoil.
"We're a very closely divided country here. People have to have confidence in the results of the election and the legitimacy of the government. People trying to change the rules to this methodology, which as a matter of logic is open to fraud and conversion, is reckless and dangerous. People are playing with fire." – William Barr, U.S. Attorney General