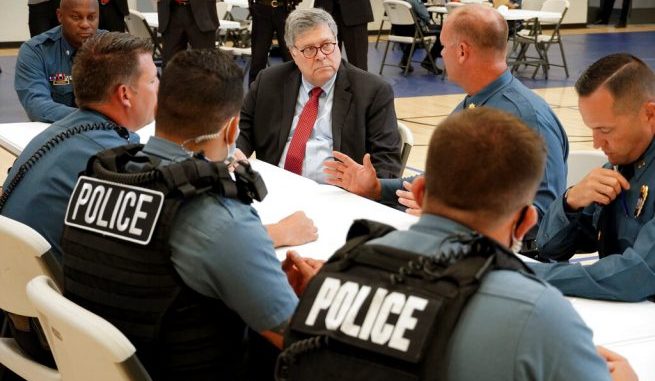 OAN Newsroom
UPDATED 5:20 PM PT – Thursday, September 3, 2020
Attorney General William Barr has said sending federal law enforcement to polling locations on Election Day could be considered legal. On Wednesday, he noted such a move could be warranted if there is "a particular criminal threat."
Last month, President Trump announced he is planning to send federal officers to polling locations to prevent voter fraud this November.
However, acting DHS Secretary Chad Wolf has since stated that is not within the Homeland Security Department's jurisdiction.
Despite this, Barr is pushing back. According to him, the federal government has done this before.
"We've done so in the past to enforce civil rights, to make sure people were not being harassed and there was no suppression of vote against African Americans," he stated.
Both Barr and Wolf have said President Trump has not directly spoken with them about plans to send federal officers to polling stations.
However, both the attorney general and the president have raised concerns about election fraud amid the influx of mass mail-in voting this year.