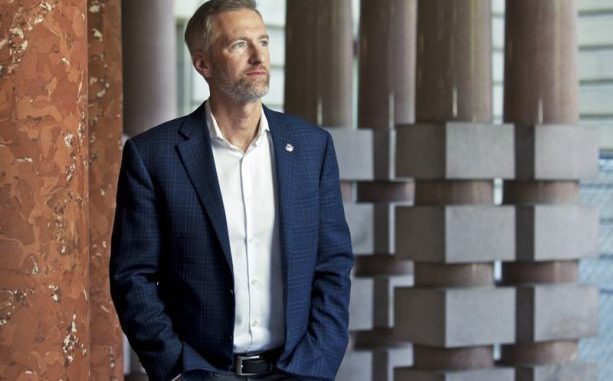 OAN Newsroom
UPDATED 2:27 PM PT – Wednesday, September 2, 2020
The mayor of Portland is planning to move as soon as the riots outside his condo cease. In an email, Ted Wheeler told the other tenants of his Pearl District condo he would be vacating the space to find a new place to live.
He stated he's making the move for his and everyone else's "safety and peace." The mayor has also apologized for bringing everyone into his politics.
"I want to express my sincere apologies for the damage to our home and the fear that you are experiencing due to my position," he said. "It's unfair to all of you who have no role in politics or in my administration."
Demonstrators have notably swarmed the area surrounding the building, where they continue to call for his immediate resignation.
"(I am here) because Ted Wheeler should resign. …Last night, 100 cops arrested 29 peaceful protesters. Meanwhile, down the street from my house, one family's house was shot up. They didn't have cops there for 17 hours because he's so busy arresting people like me, peaceful protesters." – Robin McAlpine, protester
Footage showed some protesters setting fires, breaking windows and even perpetrating assaults.
A picnic table burns in front of Mayor Ted Wheeler's condo pic.twitter.com/TkQb2lrdup

— Scott Keeler (@_WhatRiot) September 1, 2020
President Trump reacted to this news by highlighting the distrust between the people of Portland and their mayor. On Wednesday, the president said Ted Wheeler was harassed by so-called "friendly protesters."
He went on to say the anarchists have treated Wheeler horribly, even though he is "so nice and respectful to them." He added "criminals only understand strength."
Mayor Wheeler just got harassed out of his own home in Portland by so-called "friendly protesters". The Anarchists, Agitators and Looters treat him HORRIBLY, even though he is so nice and respectful to them. Criminals only understand strength!

— Donald J. Trump (@realDonaldTrump) September 2, 2020
"As you know in Portland, the mayor last night was raided. His home was raided, he was thrown out of his home. Then he'll stand up and fight for these people. These people only know one thing, and that's strength." – Donald Trump, 45th President of the United States
Wheeler has denounced the violence and assaults posted on social media. The mayor noted this behavior contributes to a more dangerous neighborhood and addressed issues surrounding out-of-towners coming into the city to watch the unrest.
"It is actually disturbing to me that there are people who are coming from out of town, out of state, to witness these activities," stated Wheeler. "This is not a tourist opportunity, this is not a spectacle."
However, some believe his words aren't enough. The mayor continues to openly refuse help from the White House to get the city under control. He has also limited police activity and presence, which is preventing them from making meaningful arrests and keeping residents safe.
Acting Homeland Security Secretary Chad Wolf recently sent a letter to the mayor. In the letter, Wolf urged him to "prioritize public safety and to request federal assistance to restore law and order in Portland."
Local police will join Wheeler on Thursday for a meeting, where residents can voice their concerns over the current state of the city riots and level of police involvement.