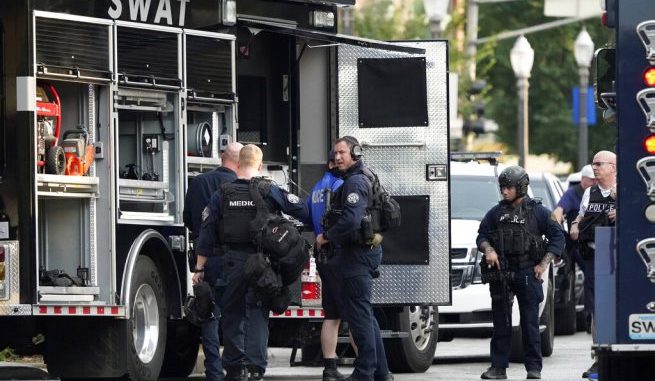 OAN Newsroom
UPDATED 8:27 AM PT – Monday, August 31, 2020
On Sunday, the St. Louis Metro Police Department confirmed to have taken an unidentified 43-year old man into custody after a 12-hour stand-off.
It started after police responded to an active shooter call in a residential neighborhood. Shortly after arriving at the scene, one officer was shot in the head and another was shot in leg while tending to the first fallen officer.
"Please pray for the most critically — actually pray for both the officers — but certainly the officer that's most critically injured, please pray for him," stated Chief John Hayden of the St. Louis Metro Police Department.
Both officers were rushed to the hospital. Meanwhile, authorities said the suspect barricaded himself in a random house for around 12-hours after forcing a couple out of their home.
Police deployed tear gas into the house and spoke with the suspect through a bullhorn in an effort to draw him out. When the 43-year-old finally came out, he appeared injured in what police believe was a self-inflicted cut. The suspect is now in police custody after being evaluated by local doctors.
The St. Louis Police force's investigation unit is conducting an investigation into the shooting, which the police chief said has devastated the community.
A 43-year old white male was taken into custody after a lengthy stand-off w/officers. He was taken to a hospital for evaluation & released to our custody. No officers were injured during the stand-off & no shots were fired by officers. FIU is handling the ongoing investigation.

— St. Louis, MO Police (@SLMPD) August 30, 2020
"But again, this is our eighth officer shot in the line of duty trying to do their jobs — that's all they're trying to do," stated Chief Hayden. "And their suffering under gunfire…we're trying to cope through a very trying summer and it just seems very difficult."