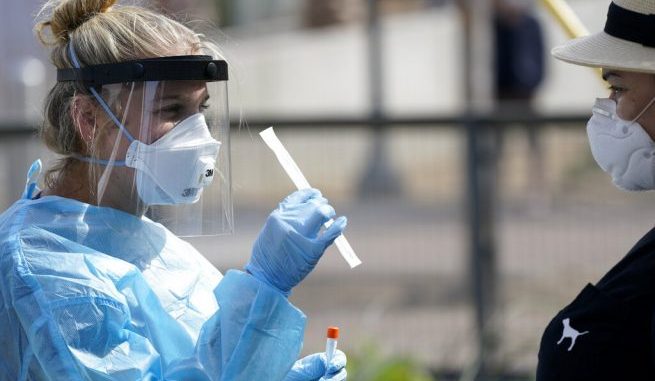 OAN Newsroom
UPDATED 11:33 AM PT – Monday, August 31, 2020
There may be trouble brewing for the CDC. Late last week, the agency provided an update to its coronavirus death statistics when something caught the eye of a conservative blogger.
In a tweet, which has now been delete by Twitter, the agency was accused of "quietly updating their death statistics" to admit only six-percent of all recorded deaths were caused by the virus. The tweet caught the attention of President Trump who retweeted it shortly before it was taken down.
— Bad COVID-19 Takes (@BadCOVID19Takes) August 31, 2020
However, a separate tweet by Jenna Wllis, who serves as the legal adviser for the president's 2020 campaign, has not been deleted and links an article by the Gateway Pundit describing the scandal.
????????? https://t.co/kcbyFcxoEL

— Jenna Ellis (@JennaEllisEsq) August 30, 2020
According to reports on the update, the agency admitted that just over 9,000 deaths were actually caused by the virus. If that's true, the other 94-percent of COVID-related deaths would have been caused by comorbidities or other illnesses in the patient that may have contributed to their death.
However, the CDC and some medical experts have said that's a blatant misinterpretation of their revisions. The agency said the update actually revealed that for six-percent of COVID-related deaths, COVID-19 was the only cause of death mentioned on their death certificates. If true, that would mean six-percent of patients died without any comorbidities.
The president has not responded to the CDC's rebuttal, but he has voiced skepticism in the agency multiple times. The administration has accused the CDC of inflating its death statistics to reflect negatively on the White House virus response.