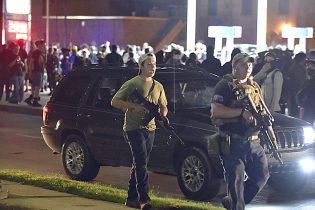 OAN Newsroom
UPDATED 1:00 PM PT – Saturday, August 29, 2020
On Friday, an Illinois judge agreed to delay Kyle Rittenhouse's extradition hearing until next month. This followed a request from the defendant, which stated he needed more time to find a lawyer.
"The public defender requested a 30-day continuance of the case for Kyle Rittenhouse. It was granted. The next hearing is September 25th. He also said that he plans to hire a private attorney."
– Lee Filas, spokesman for the Lake County State's Attorneys Office
The 17-year-old has been accused of killing two people and injuring another during a recent protest in Wisconsin. He is facing six criminal counts, including first-degree intentional homicide, which could result in a life sentence.
In addition to felony charges, Rittenhouse has been charged with possession of a dangerous weapon while under the age of 18.
The charges stemmed from Wednesday night's protest in Kenosha. Rittenhouse allegedly shot several people while defending local businesses from rioters.
Shortly after the incident, a criminal complaint surfaced. It alleged he called a friend, 36-year-old Joseph Rosenbaum, just after the shooting and said, "I just killed somebody."
The complaint further claimed he went on to shoot and kill 26-year-old Anthony Huber. Huber reportedly chased Rittenhouse down and attacked him with a skateboard following the first shooting.
Rittenhouse then allegedly fired at 26-year-old Gaige Grosskreutz, hitting him in the arm.
Despite these allegations and the charges against him, the 17-year-old maintains he acted in self-defense. According to officials, he will remain in custody in Illinois.
Kyle Rittenhouse's legal team has released a full statement of his defense. pic.twitter.com/NJoSVfp4Io

— Ian Miles Cheong (@stillgray) August 29, 2020