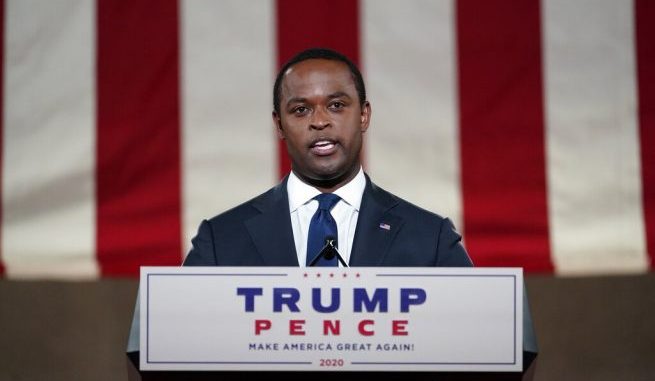 OAN Newsroom
UPDATED 9:42 AM PT – Saturday, August 29, 2020
Kentucky's attorney general has stated "President Trump is what's best for the country" amid heightened racial tensions. Daniel Cameron, the state's first Black attorney general, made those comments during a recent podcast.
He compared the president to Joe Biden, whom he claimed only sees Black citizens as a "bloc of votes to be taken for granted." He cited similar remarks he delivered on Tuesday at the RNC, where he highlighted the diversity of thought within the Black community.
"There is diversity within the Black community," stated Cameron. "We all have different values and interpretations of the political parties here in this country."
The Democrat presidential nominee faced backlash in May for suggesting undecided voters weren't Black.
Meanwhile, President Trump has said the Republican Party is the only thing standing between democracy and the left-wing mob. During a campaign rally in Londonderry, New Hampshire, he slammed the "radical left" for their "efforts to divide everyone by race and hatred."
The president went on to call Joe Biden a puppet of that movement.
"I believe I have the honor of running against the worst candidate ever put up by the Democratic Party," he said. "I believe he's the worst candidate, the slowest candidate."
President Trump believes if Biden is elected, the former vice president would erase borders, take away guns and demolish suburbs.
"If our foreign adversaries were devising a plan to destroy the United States from within, all they have to look is at the Biden-Harris," he added.
In contrast, the president claimed his administration has passed criminal justice reform, allocated funding for Black colleges and secured America's borders.
"Over the next four years, we will make America into the manufacturing superpower of the world…, we will end our reliance on China once and for all," stated President Trump. "…We will hire more police, increase penalties for assaults on law enforcement, surge federal prosecutors into high crime neighborhoods and ban sanctuary cities."
The president went on to say that if Democrats want to stand with anarchists, criminals and flag burners, "that's up to them."