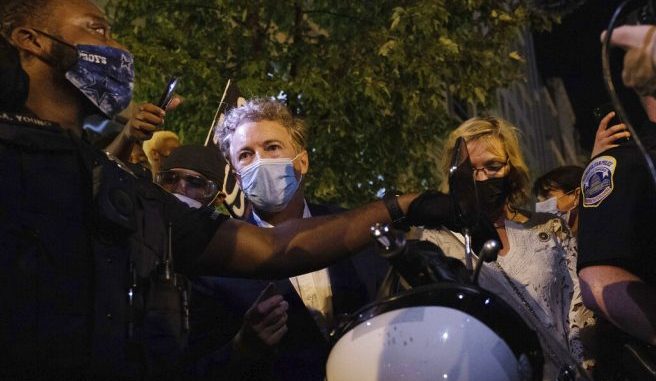 OAN Newsroom
UPDATED 12:56 PM PT – Friday, August 28, 2020
Sen. Rand Paul (R-Ky.) showed support for law enforcement after he was accosted by an angry mob in Washington, D.C.
In a tweet on Thursday, the Kentucky Republican thanked the D.C. Police Department for escorting him back to his hotel after he was chased by dozens of protesters as he left President Trump's RNC speech at the White House.
Just got attacked by an angry mob of over 100, one block away from the White House. Thank you to @DCPoliceDept for literally saving our lives from a crazed mob.

— Senator Rand Paul (@RandPaul) August 28, 2020
Anti-trump protests erupted outside the White House following the presidents reacceptance speech. Attendees were harassed by protesters who also shouted expletives at officers providing security for the guests.
Sen. Paul has called on the FBI to make arrests and conduct an investigation. He claimed many protestors are being paid to cross state lines to intentionally cause problems and incite violence.
In response to the incident, Sen. Ted Cruz (R-Texas) also issued a statement. The Texas Republican noted that this was very close to escalating to serious violence and "this sort of thing needs to stop."
What happened to Rand & Kelley tonight (and numerous others exiting the RNC) was wrong. The police protecting them were heroic, but this needs to stop. This is very close to escalating to serious violence. https://t.co/4iRdhG2F6Y

— Ted Cruz (@tedcruz) August 28, 2020
Sen. Paul said the U.S. can't become Portland, which has seen constant riots and destruction in recent days.