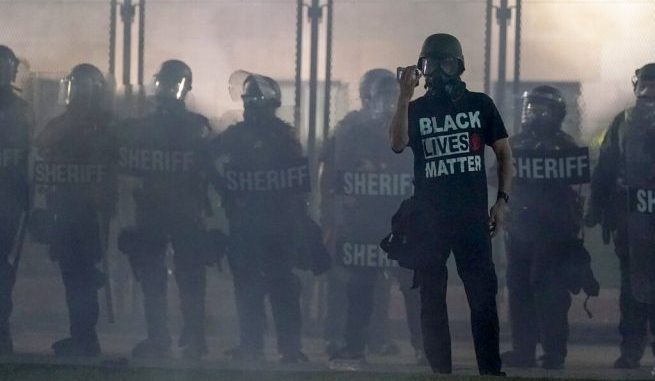 OAN Newsroom
UPDATED 8:11 AM PT – Friday, August 28, 2020
President Trump said far-left riots in Wisconsin are fizzling out due to the decision by Gov. Tony Evers (D) to deploy the National Guard the night before. On Thursday, he noted that more federal assistance is on the way to the state after an appropriate request by the governor.
Wisconsin has seen several nights of political violence and crime amid the latest Black Lives Matter incitement there. President Trump said other Democrat-run areas should follow the state's example.
"We had virtually no incident, Portland should do the same thing," he stated. "These were all Democrat-run cities that should do this as they did really in Wisconsin, so it was very, very smooth."
His remarks came as guardsmen and women from Arizona, Michigan and Alabama were on their way to Wisconsin to quell violent protests across the city of Kenosha.
We are assessing the damage to state property and will be increasing the presence of the Wisconsin National Guard to ensure individuals can exercise their right safely, protect state buildings and critical infrastructure, and support first responders and fire fighters.

— Governor Tony Evers (@GovEvers) August 25, 2020
Meanwhile, President Trump doubled down on his offer of federal assistance to cities engulfed in riots.
"These cities that are having difficulty, if they call us, if they requisition that we send the National Guard, they will be there instantaneously and we will put out the fire," he stated. "We will put out the flame, we will put out the vandalism."
The president noted that ongoing riots make Democrat officials look bad politically as voters may get frustrated with the lack of public safety in their cities. He praised Wisconsin officials for calling in the National Guard and urged other jurisdictions to do the same.
President Trump also said it's unclear why Democrats are allowing the looting and rioting to continue when the problem could be easily solved.