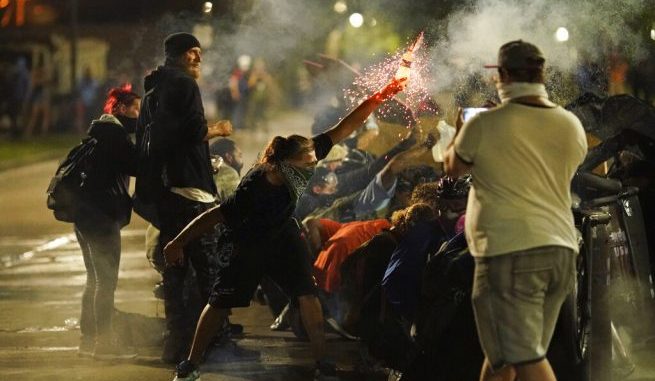 OAN Newsroom
UPDATED 5:20 PM PT – Wednesday, August 26, 2020
The teen suspected of fatally shooting two people during protests in Wisconsin will be charged as an adult. According to police, 17-year-old Kyle Rittenhouse was taken into custody on Wednesday after being arrested in his home state of Illinois.
He has been charged with first-degree intentional homicide in connection with the shooting in Kenosha, which took place on Tuesday night.
A court complaint stated the suspect fled the state of Wisconsin with the intent to avoid prosecution.
Rittenhouse, who was reportedly armed with an AR-15 rifle, was spotted in the area before and after the incident.
How is Kyle Rittenhouse, an alleged mass shooter in Kenosha still walking around in front of police with a loaded riffle not shot at by them? Is he not a threat to them or the public around him? pic.twitter.com/T2mxGoLrJt

— Christopher?Proud Dem (@cwebbonline) August 26, 2020
"People are getting injured and our job is to protect this business. Part of my job is also to help people, so if there's somebody hurt, I'm running into harm's way. That's why I have my rifle, because I need to protect myself obviously." – Kyle Rittenhouse, suspected shooter
I interviewed the alleged shooter before the violence started.

Full video coming soon: pic.twitter.com/G3dVOJozN7

— Richie?McG? (@RichieMcGinniss) August 26, 2020
He is being held in a juvenile detention center and will appear in court on Friday for a bond hearing.