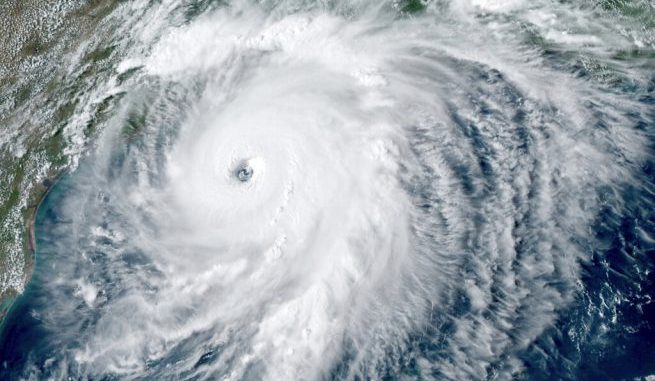 OAN Newsroom
UPDATED 6:10 PM PT – Wednesday, August 26, 2020
Hurricane Laura gained strength Wednesday as it moved across the Gulf of Mexico towards Texas and Louisiana.
According to reports, the storm has strengthened to a Category 4 storm. It has seen winds between 130 and 156 miles per hour, which is strong enough to tear rooftops from homes.
This latest rating is one level below the highest level, Category 5, which can level buildings and houses.
Laura is set to hit near the Texas-Louisiana border on Thursday morning. Forecasters have warned of an "unsurvivable storm surge," which could penetrate up to 30 miles inland from the coastline.
"Things changing rapidly here, but what's not changing is the fact that this could be a catastrophic, life threatening event," stated the director of the National Hurricane Center.
In Louisiana, Governor John Bel Edwards activated the full state National Guard ahead of the hurricane's landfall. He noted this is the first time the full guard has assembled since Hurricane Isaac in 2012.
2,000 hotel rooms have also been secured to help shelter those affected by the storm. Mandatory evacuation orders are in place for several areas and curfew orders have been issued in at least one parish.
"I am asking people right now to pay attention to this storm, to get out of harm's way if there is an evacuation order in place, whether it is mandatory or voluntary," added Edwards. "Understand our state hasn't seen a storm surge like this in many, many decades."
In Texas, Governor Greg Abbott warned Laura's winds could be the biggest threat. However, he didn't downplay the potential problems caused by the storm surges, which are expected to be between 10 and 15 feet.
He said some areas should expect flash floods, with some rivers overflowing due to the surge. The governor has also warned there could be a period of time when residents will simply be inaccessible to rescue crews.
"It's important for people to know that from about 7 p.m. tonight until about 9 a.m. in the morning, it will be a little bit of a lockdown time period for the ability of rescuers to get in and provide support for anybody in the local regions," stated Abbott. "So we urge anybody who may be in harm's way to take these few last hours to get out of harm's way."
Hurricane Laura slammed the Dominican Republic, Puerto Rico and Haiti over the weekend, knocking out power for around 1 million people and killing at least 23 people.