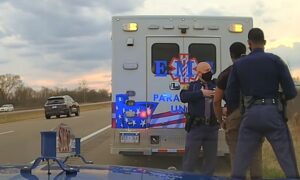 'I'll call Gov. Whitmer right now'
Michigan state Rep. Jewell Jones was charged with a DUI, resisting arrest, and weapons charges earlier this month. But newly released dashcam footage shows Jones, a Democrat, being arrested after he allegedly drunkenly crashed his vehicle and arguing with police.
Jones allegedly taunted the officers who were arresting him on Interstate 96 in Fowlerville, which is about 65 miles outside of Detroit. Officers said they found the lawmaker's SUV with the vanity plate "ELECTED" in a ditch.
"I'm telling you if you do, it's not going to be good for you. I run y'all budget bro," Jones allegedly told the arresting officers, according to a police report.
"You pulled me over and I'm not doing [expletive]," Jones can be heard saying on the video, adding that "y'all don't know who y'all dealing with, bro."
"I can give you my address. You can drop me off at the crib," he also appeared to tell the officer, according to the footage. "You can drop me off at the station. I don't give a [expletive], bro. You just let me know what you wanna do."
Troopers said Jones had no idea where he was and allegedly claimed Jones was going to call Gov. Gretchen Whitmer as he struggled with them, the police report said.
According to video footage and reports, Jones was taken to the ground while resisting arrest and was hit with a Taser and pepper spray to get him under control.
Jones, before he was Tased, allegedly told officers: "Bro, if you tase me, it's gon' be bad," as allegedly ignored several verbal warnings, the report said.
Authorities said that Jones had a blood-alcohol content of 0.19 percent, which is more than twice the legal limit to drive. The report added that Jones allegedly refused a blood test but was ultimately tested after police obtained a warrant.
Jones was charged with resisting and obstructing, operating a vehicle with a high blood alcohol content, operating while intoxicated, reckless driving, and possession of a weapon under the influence of alcohol.
The Epoch Times contacted Jones' office for comment.
Jones' attorney, Ali Hammoud, denied that the lawmaker resisted arrest and said that "he was not threatening the officers in any way."
"He was fully cooperative," Hammoud told news outlets. "The officers decided to throw Representative Jones to the ground and three of them held him down, crushing him under their weight. The officers also tased Representative Jones in his head, causing memory loss and leaving scars that are visible to this day. They used so much pepper spray on his face that his eyes still appear profoundly red and swollen."
Hammoud said that Jones' claims about Whitmer and the police budget "was an attempt to stop them from using excessive force."
Jones, a third-term state representative, represents the 11th District of Michigan, which includes Inkster, Garden City, parts of Dearborn Heights, Livonia, and Westland. Jones is also an auxiliary police officer in Inkster.