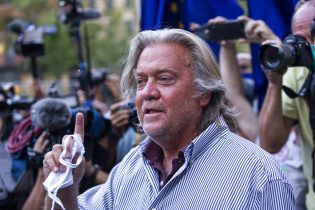 OAN Newsroom
UPDATED 2:20 PM PT – Friday, August 21, 2020
Former White House chief strategist Steve Bannon has vowed to fight the charges against him following his recent arrest.
"I'm not going to back down, this is a political hit job. Everybody knows I love a fight. You know, I was called honey badger for many years, honey badger doesn't give." – Steve Bannon, former White House Chief Strategist
This week, he was charged with wire fraud and money laundering in connection with his major crowdfunding campaign. The "We Build the Wall" project aimed to help the federal government build the wall along the southern U.S. border.
According to Bannon, arresting him was simply an intimidation tactic.
"This was to stop and intimidate people that want to talk about the wall," he stated. "This is to stop and intimidate people that have President Trump's back on building the wall."
Officials alleged Bannon and his three colleagues ripped off hundreds of thousands of people who donated to the project.
He was released on a $5 million bond Thursday afternoon and has pleaded "not guilty" to all charges against him.