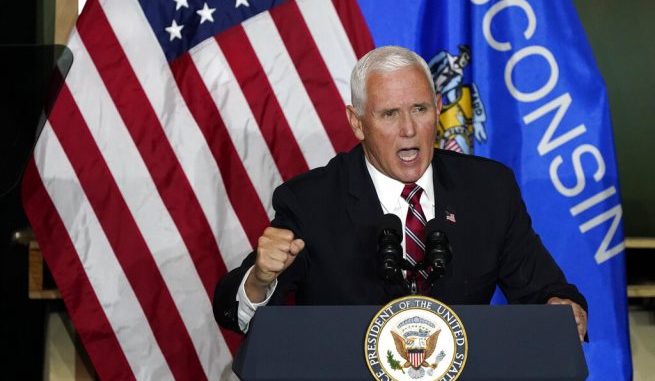 OAN Newsroom
UPDATED 6:25 PM PT – Wednesday, August 19, 2020
While speaking in Wisconsin this week, Vice President Mike Pence criticized Joe Biden for campaigning virtually throughout this year's electoral season. On Wednesday, the vice president pointed out Biden hasn't been to the state since at least 2012, yet he somehow hopes to win over the state's voters.
"You know, I heard on the way here that Joe Biden hasn't actually been to Wisconsin in 659 days," he said.
The vice president claimed Biden wants to increase taxes for all Americans by twice as much as Hillary Clinton had proposed back in 2016.
Pence also suggested his predecessor is endorsing dangerous, far-left ideas.
"The president has always said he'll see what happens and make a determination in the aftermath. It's the same thing he said last November. He wants a free election, a fair election. He wants confidence in the results of the election, particularly when you have states like Nevada doing mass mail-out voting to their voting rolls. When they tried this in the primary, it was a massive failure. Ballots were piled up in trash cans, ballots were pinned to apartment dart boards. With that being the system, the president wants to take a hard look at this and make sure that these are fair election results and not subject to fraud." – Mike Pence, Vice President of the United States
The Trump administration has become increasingly concerned over the reliability of the mail-in voting system ahead of November's election.