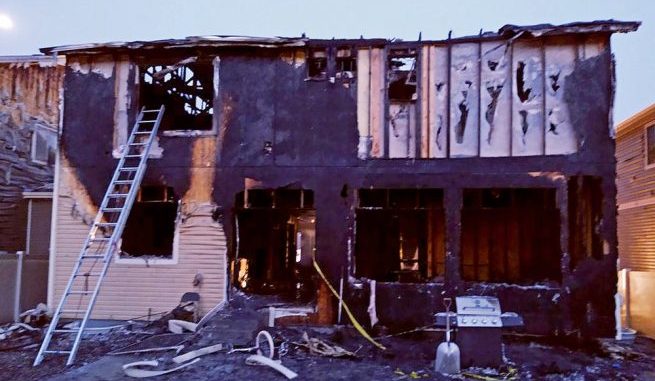 OAN Newsroom
UPDATED 6:50 PM PT – Wednesday, August 19, 2020
Denver Police Department has posted a $14,000 reward for information leading to the three suspects of a recent house fire, which killed five people in Colorado earlier this month. Authorities released images of the masked individuals on Wednesday, who they believe intentionally set fire to the home on August 5th.
They also released a photo of a dark colored sedan, which the suspects reportedly used to flee the scene.
PLZ RT: Five people were killed in fire in the 5300 block of N Truckee Street. The fire appeared to be deliberately set by unknown persons who fled the area. Anyone w/info on this homicide is asked to call @CrimeStoppersCO at 720-913-7867 and you could earn a $14k reward! #Denver pic.twitter.com/7xbU2XQWDH

— Denver Police Dept. (@DenverPolice) August 18, 2020
Two children and three adults died in the fire, while three others were able to escape by jumping off the second floor of the home.
The victims' family has been mourning the loss of their loved ones as they call for justice.
"The only thing that can give us peace is to be able to identify the individual that did this horrific crime and bring them to justice," stated one relative.
Consul General of Senegal Elhadji Ndao arrived from New York to meet with family of the fire victims and Senegalese community in Green Valley Ranch #9NEWS pic.twitter.com/dmABabyI0X

— Noel Brennan (@Noeltbrennan) August 6, 2020
The victims were originally from Senegal. Local Muslim leaders have called on police to investigate the alleged arson as a possible hate crime.